In the physically demanding AFC North, the Cleveland Browns' success in 2015 will go hand-in-hand with running the football. And the more variety the Browns can add to their play calling, the better. 
Since arriving in late January, offensive coordinator John DeFilippo has examined second-year running backs Isaiah Crowell and Terrance West like a detective. "Flip" watched all of their combined 319 carries from 2014 and he's looked at hundreds of hours of practice film. On Monday, the month long training camp concluded and further information was acquired. 
"Those guys between the tackles are pretty darn good," DeFilippo said.
According to Pro Football Focus, 65.6 percent of West's 673 yards came inside the tackles. Crowell boasted an even greater 72 percent inside the tackles on his 607 yards. Part of that had to do with the scheme on offense, but some of it also has to do with the players' comfort zone. West is shifty with his feet, Crowell uses his broad shoulders and both are inclined to churn out yardage up the gut.
But in this refurbished offense, West and Crowell will be asked to evolve from inside- the-tackle-box runners to do-it-all weapons. Mastering one running style in this league is an accomplishment; conquering others are how players go from solid to spectacular.
In preseason game No. 2 against the Bills, DeFilippo purposefully gave West 11 carries and he produced 42 yards. Crowell saw five carries, but arguably had the nicest play of the night on a 13-yard stiff-arm fueled dash down the sideline.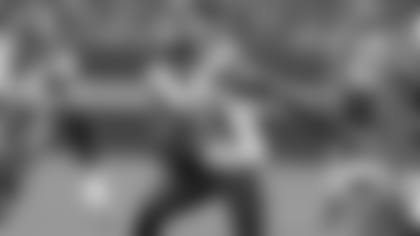 "I tried to find out as much as I could against Buffalo," DeFilippo said. "I wanted to see where these two backs were this past week."
"You felt like if we played a whole game, we were going, we were wearing on them and had the chance to start cracking some big ones," quarterback Josh McCown said after the Bills game.
When the Browns travel to Tampa Bay to face the Buccaneers, the trip will give DeFilippo, McCown and the entire offense more clarity on the running game. The third preseason game will be the only contest one Cleveland game-plans for – meaning DeFilippo will tailor certain play calls to try to exploit the Buccaneers on defense. 
If DeFilippo goes back and glances at last year's film from Cleveland's 22-17 victory over the Buccaneers, he'll notice West caught his only touchdown pass of the season. On a play-action fake, Brian Hoyer dumped a flare pass to the 225-pounder, and West glided into the end zone.
One of the biggest variances in DeFilippo's offense compared to Kyle Shanahan's is his incorporation of passes to the running backs. Throwing drills in practice to the running backs have been a nearly every-day thing. But through two preseason games, West has two catches for 6 yards, while Crowell has one snag for 6 yards.  
"The things we need to improve with those guys are when we get them outside in pass routes," DeFilippo said. "That's constant work and improvement and they know that, I've discussed that with them."
"It will open more things up," McCown said. "They are steadily improving. If we get outside the tackles, and they can do more out there, it just stretches the field for us. It opens up other things."
The Browns will add fellow rookie running back Duke Johnson to the mix on Saturday at Raymond James Stadium, but in the dress rehearsal of the preseason, expect DeFilippo to continue to try to expand the skill sets of Crowell and West.