Notes and Quotes from Wednesday's OTAs
The early portion of 11-on-11 drills was visibly won by the Browns defense. The linemen were sniffing out runs, the linebackers were roaming from sideline to sideline, and there were at least two interceptions by my count. Mike Pettine said he wanted competitive practices, and boy did he get them in Wednesday's OTAs. The entire defensive unit was loudly hooting and hollering following each play in their favor.
The most important Cleveland Brown on the field Wednesday was Donte Whitner. In between plays, the Browns' safety is constantly tutoring younger players – even linebackers and defensive linemen on where to be.
Wednesday's practice will probably be most remembered for the scuffle that took place between the offensive and defensive linemen. "It's a fine line and we want our guys right up to that line," Pettine said in terms of the scuffle. "It is an emotional sport. Sometimes it will trigger a response. We want our guys out there competing and that's what our game is all about."
Outside linebackers Jabaal Sheard, Paul Kruger and Barkevious Mingo all rotated in and out with the first-string defense. Expect it to stay that way. "I don't think you can have enough good pass rushers," Pettine said of his linebackers. "The key is to get a lead in the fourth quarter and have fresh pass rushers."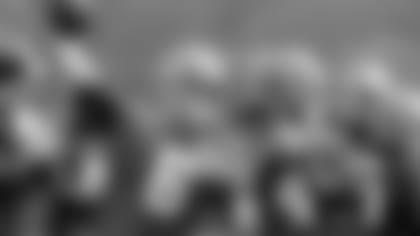 All of Brian Hoyer's attempts Wednesday were out of the shotgun. There was a simulated pass rush with defenders not going full speed, so Hoyer could at least get a sense for the pocket collapsing, while also keeping guys away from his knee. "We wanted him to get the feel of being in the huddle, making the call, going 11-against-11, reading the full defense," said Pettine about Hoyer.
"Like any other rookie, he's inconsistent," Pettine said about Johnny Manziel's performance on Wednesday. "A lot of it is the mental part of it. He's more worried about getting the formation right, making sure the motions correct, he's got the cadence and he's got to worry about where guys are. Being good mechanically takes a back seat to learning the system first."
Time to squash the storyline of Johnny Manziel not having an actual written playbook at Texas A&M and how that could make his transition tougher as a rookie. "To me, that is maybe even more of a credit to how productive [Texas A&M] offenses have been," said Pettine of the challenge of memorizing game plans verbatim.
Brian Hoyer, Joe Thomas and Pettine all mentioned how Manziel has been more quiet than they expected, but a very solid teammate thus far, who is already putting in the extra work.
Much more on Hoyer's press conference coming up on ClevelandBrowns.com
Guys that looked impressive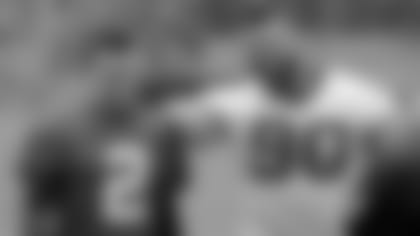 Edwin Baker – I know it's just OTAs, but Baker to me looks like by far the fastest running back out of the group. Fast certinatly doesn't translate into playing time. He's in an uphill climb with how competitive the running back position group is. But he showed some things Wednesday.
Anthony Armstrong – The former Redskins' receiver was a deep threat in Washington, and flashed some of those abilities. He hauled in multiple 45-yard bombs along the sidelines in one-on-one drills.
Billy Winn – When he was with the first unit during 11-on-11's, he was leading the pack in terms of getting into the backfield. Under defensive line coach Anthony Weaver's guidance, the Browns could be carving out a bigger role for Winn.