Special teams played a critical role in the Cleveland Browns improving their win total to seven games in 2014.
Game-winning field goals from Billy Cundiff against the Saints and Falcons coupled with blocked kicks against the Titans (Tank Carder) and Buccaneers (Billy Winn) were without a doubt season-altering plays from Cleveland's special teams unit.
But special teams coordinator Chris Tabor recognizes improvements need to be made in 2015, and it starts with the return game. Cleveland ranked 24th in the league in kick return average, 25th in punts with just 7 yards per return and produced no returns for touchdowns.
"We didn't play up to the standard that we've set since we've been here," Tabor said. "Even as poor as we were in the punt return phase, and it was obviously very disappointing, we were still No. 1 in the league in punt return average. That's the standard that we have to do as coaches, do a better job of teaching them and coaching them and getting back to that level."  
Kick returning duties were handled by receivers Marlon Moore, Travis Benjamin and running back Shaun Draughn at the end of the season. Punt returns were juggled among Benjamin and safeties Jordan Poyer and Jim Leonhard – the latter of whom was considered to be only a catching specialist.
The Browns are still months away from training camp but Tabor already expects a few new names to join the conversation and spark competition as return men.
While a freshman at Miami, running back Duke Johnson was named to several All-American teams as a kick returner. He set the Hurricanes single-season record with 892 kick return yards and boasted two return touchdowns. The third-round pick has expressed interest in returning kicks.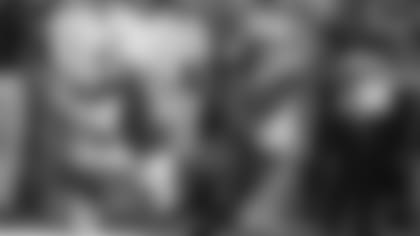 "We feel that he had that ability and he's developing as a punt returner," Tabor said. "We're excited about, hopefully, what we can do with him."
Sixth-round draft pick Charles Gaines is another name to watch as a potential return man. In minimal action as a returner with Louisville, the converted wide receiver scored on a 93-yard kick return during his sophomore season. Gaines showed he runs with a lengthy stride with his 5-foot-11, 190-pound frame during this weekend's mini-camp.
Tabor also did not dismiss cornerback Justin Gilbert entering the fray as a kick return option. A second-year player from Oklahoma State, Gilbert set a Big 12 conference record with six kickoff returns for touchdowns.
"I think it'll all play out," Tabor said. "And I think one of the big things will be in the preseason giving those guys opportunities and kind of getting a feel for it when there's 11 guys coming after him and 'I have to hit the ball up in there' and essentially having that NASCAR mentality of running fearless."