Even though he led the Browns in touchdown receptions last season, Travis Benjamin is clawing and scratching through every training camp practice to prove to the Browns he deserves more playing time – and a secure spot on this roster.
In terms of incumbent skill players, the argument can be made nobody has had a better start to camp than Benjamin.
With five days in the books, Cleveland's offense has featured a flurry of short passes in the middle of the field, and the 25-year-old receiver has been cleaning up against the first-team defense. At Tuesday's practice, Benjamin was a recipient of a trick pass-play from Terrelle Pryor he hauled in for 40-yards, all the while with Pierre Desir and Tashaun Gipson draped on his back.
Now 21 months removed from ACL surgery, Benjamin finally feels like himself again, and if that's the case his speed is nearly unmatched in the AFC.
"I'm just getting my feet (back) underneath me," Benjamin told Nathan Zegura on Tuesday's Browns Huddle.
The thing is, Benjamin has always been a smooth player in practice. Speed flourishes in training camp. His in-season production is still the question.
In three NFL seasons, Benjamin's career-highs are 18 receptions and 314 yards. With new veteran additions generating a majority of the buzz and a plethora of players nipping on his heels – Pryor, Vince Mayle, Darius Jennings, Josh Lenz and Shane Wynn – competition at receiver has reached a boiling point for Benjamin. He senses it.
"Continue to separate myself from the others," Benjamin responded to reporters when asked about steps he needs to take during camp. "Showcase my skill, showcase my speed and be willing to be that guy for when it's time, the calls, just be able to make that play."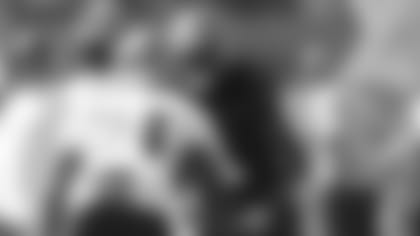 Competition is just as thick for Benjamin at return man, where he made a name for himself in 2013 by ranking third in the NFL in punt return yards before his knee injury. But 2014 saw a dizzying array of returners for the Browns, none of whom were more effective than the other. So Taylor Gabriel, Tramon Williams, and Wynn have been fielding punts and kicks in practice to add some flavor.
The theme is a common one: Benjamin does not want to relent his spot.
"Out of one to 10, I'd say 11," Benjamin said, responding to how badly he wants to be Cleveland's return man. "I want to be back and help the Browns and get back to the point where I was where I'm the best in the game."
There's no arguing Benjamin has been vigorous in training camp. On Friday, the Browns head to Columbus for the Orange and Brown scrimmage. Coach Mike Pettine said the Browns coaching staff will put more weight into players who excel in the more pressure-filled situations of playing in front of screaming fans at Ohio Stadium.
"I just like it because we're going somewhere different and it will be a different atmosphere," Pettine said.  "Guys can make plays out here on the practice field but now you have to – I mean we play games in that type of atmosphere and that's important to see who's going to thrive in that environment and who might drop away."
Because he's a proven player with a track record for big plays still in his youth, Benjamin clearly has value. But the temperature of the competition in the Browns' receiving room is only going to get hotter.
The receiver nicknamed "rabbit" isn't losing any sleep.
"I don't look that far into the future," Benjamin said. "You have at least four-to-five weeks until that call. I'm just focused on getting better every day."
That focus is doing wonders so far.