Cameron Erving didn't quite understand the magnitude of what becoming a first round draft pick for the Cleveland Browns meant until 22 hours after commissioner Roger Goodell called his name in Chicago.  
After a full day spent touring the Browns' facility in Berea, meeting the coaching staff and the media, Erving decided to take in a Cleveland Indians game with his cousin, KJ, at Progressive Field last Friday.
Coming from Florida State and being teammates with No.1 overall pick Jameis Winston, Erving was not really a public figure in Tallahassee. But what the offensive lineman quickly discovered, was that Browns players are revered in the city of Cleveland.
Sitting in a loge adjacent to third base, Erving found himself surrounded by Cleveland fans who recognized him from the draft and wanted pictures with him. The Indians caught wind of Erving's presence and tossed him up on the jumbotron. The roars from the fans in attendance sounded as if the Browns had just scored a touchdown.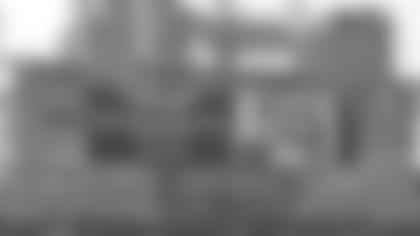 "It's still hard to believe, but now I'm taking it in stride," Erving told Cleveland Browns Daily on Tuesday. "It was actually amazing. That was the first baseball game I've ever been to. The fans welcomed me. I never thought I would be in this position and people would be cheering that much for me."
Erving's other takeaway has to do with his fellow first round pick, defensive lineman Danny Shelton. The pair of linemen and their families flew back on the Browns plane together and bonded over the change they are embarking on together.
"Being around Danny and his family, I got a good feel for him," said Erving. "Danny's really good people."
Erving's also thrilled that running back Duke Johnson is now a teammate. Florida State's rival is Miami, and Johnson always seemed to show up in a big way.
"It's going to be great to actually be teammates with these guys," said Erving.
The real work will begin on Thursday for Erving, as he arrives back in Northeast Ohio for rookie minicamp. It will be the first time the 22-year-old straps on an NFL helmet. It will be the official start to his professional career.
"I'm ready to start learning the playbook," said Erving. "I'm ready to get back on the field. I want to show the fans it was the right choice to draft me."