BEREA, Ohio – The Browns' first Monday Night Football game at FirstEnergy Stadium in six years and another nationally televised primetime matchup with their in-state rival highlight the team's 2015 schedule.
The NFL announced its complete slate Tuesday. The Browns' also finalized dates and times on their preseason schedule, which includes three Thursday-night games.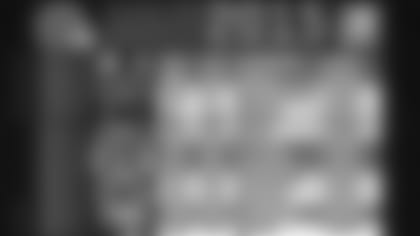 NOTE: Game times subject to change - Weeks 5-8, 10 & 13-17 due to NFL flex scheduling

The Browns' Monday Night Football showdown with the Ravens (Nov. 30) is their first since 2009 and 30th overall. Cleveland is 15-14 all-time on Mondays (11-9 at home), collecting its last win Nov. 17, 2008, at Buffalo.
"I'm just thrilled for our fans," Browns coach Mike Pettine said. "You get a chance to not only play on Monday night on a national stage but to be able to do that at home. That will be an electric atmosphere, I'm sure."
The primetime matchup will serve as the third of four consecutive games against AFC North foes over a 31-day stretch. It's the first time since division realignment in 2002 the Browns have played four consecutive division games.
"That, to me, can make or break the season," Pettine said. "The good thing about that stretch is you have a 10-day break and a 15-day break in there. That's a stretch that I think we'll all point to as a hinge point.
"We look at the division as being the gateway to the playoffs, the gateway to our goal."
The Browns begin that four-game stretch at a familiar time and setting. For the second consecutive season, Cleveland will travel to Cincinnati on a Thursday night in early November for a nationally televised division matchup. All 32 teams will play one "short week" Thursday night this season.
The Browns beat Cincinnati, 24-3, in last year's matchup at Paul Brown Stadium.
"The one thing I know is the Dawg Pound travels well. That was certainly evidenced last year when we went down there," Pettine said. "Playing a short week on the road is always difficult but the good thing about it is we'll certainly have confidence going into it given what happened last year."
The Browns close the season against Pittsburgh on Jan. 3, 2016, on a weekend that will see division matchups throughout the entire NFL.
For the second consecutive season and third time since the team returned as a franchise in 1999, the Browns will open the season on the road. Their game against the New York Jets will serve as the first of four consecutive games against non-division opponents.
It marks only the second time since the NFL introduced the 16-game schedule in 1978 that the Browns have not faced a division opponent in September. The only other time it occurred was 1992.
"I don't mind opening on the road," Pettine said. "I think sometimes you can get too hyped up for an opener, especially when your own fans are feeding into it. I don't think we'll have a problem getting up for the game."
Cleveland's home opener at freshly renovated FirstEnergy Stadium will be against another team it faced last season. The Sept. 20 game with Tennessee will be a rematch of last season's in Nashville, where the Browns came back from 25 points -- the largest comeback by a road team in NFL history -- to down the Titans, 29-28.
The Browns follow with back-to-back contests against AFC West foes with a home game against Oakland and a trip to San Diego. Cleveland downed the Raiders, 23-13, at FirstEnergy Stadium in last season's strength-of-schedule cross-division pairing.
The Browns' first of four games against NFC West foes is Week 7 at St. Louis and is directly followed by Arizona's first trip to FirstEnergy Stadium since 2003. The NFC West's four teams combined for a 37-27 record in 2014 and sent two teams to the playoffs, including NFC Champion Seattle, which hosts Cleveland in Week 15 (Dec. 20).
"Except for those two strength-of-schedule crossover games, we're all playing the same schedule," Pettine said, referencing the Browns' AFC North rivals. "I think in the NFL, it's a challenge every week. That's just something I know our guys are going to look forward to. Those are some good football teams, but we're planning on being a pretty good football team, ourselves."