(Photo credit: Karin McKenna)
Donte Whitner proudly sat up on stage Sunday at the Ginn Academy graduation.
When his name was announced to deliver the commencement address, Whitner preached. For 29 minutes, his story to the 2014 graduates generated tears, laughter and an eventual standing ovation.
Want to know why Donte Whitner donated $50,000 to the Ginn Academy?
Just look at the tattoo on Whitner's forearm: *Thank God For Ginn *
In life, some are mentors. Some are supporters. And some are true father figures, who take full responsibility in carving better lives for others.
Ted Ginn, Sr., played the latter role, and is the reason Whitner became a star player in the NFL. Whitner needed Ginn more than you could ever imagine.
Whitner's father was a heroin addict, and was in out of prison for much of his childhood. Whitner's mother, Deborah, worked the third shift at Nestle; 8 p.m. until 6 a.m., arriving at home just in time to wake up Donte, his brother and her five nephews she took in. Whitner never had his own bed. He left a visible indentation on the couch he slept on each night.
By the age of nine, football started to become intriguing to Whitner, but he knew his mother would never let him play because of the safety concerns. So what did the adolescent do? He forged Deborah's signature and hid his equipment in a closet, hoping his mother wouldn't find out.
By the time Deborah discovered the stinky pads, it was too late. Whitner was a natural talent on the gridiron and was already developing a reputation as a fearless player. She could even see it. The family skipped out on a month's rent to send Whitner to a football camp one summer.
But it wasn't all gravy for Whitner. The ills of playing football in the inner city will never leave Whitner's memory.
"Practice fields were full of gravel and dirt," said Whitner. "I really didn't have a pair of cleats that fit. I didn't have a proper pair of shoulder pads. My helmet probably wouldn't have passed the Ohio test for concussions. We didn't have athletic trainers out there. We had one guy who came once a week."
By the time high school rolled around, private schools were pitching Whitner that he could leave behind the perils of his Glenville community, the notoriously rough neighborhood of East Cleveland, and thrive in a new environment. So he enrolled at Benedictine, a top Catholic school in Cleveland.
Instantaneously, Whitner knew he didn't fit in. He began to dislike the school, so much, that he piled up 25 tardies in all of his classes, hoping they would fail him out. Benedictine still didn't. But Whitner was moving on.
Whitner was talented. He was smart. He was dedicated to football. He also was missing someone to guide him through his teenage years.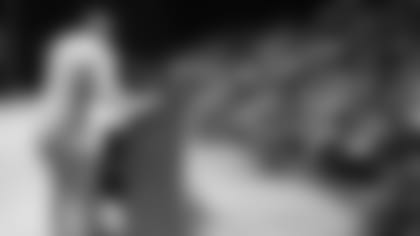 That's where Ted Ginn, Sr., enters the story. Though many had tried to persuade Whitner not to attend Glenville High School, where Ginn coached, Whitner was drawn to Ginn. The coach promised Whitner if he entrusted his entire life to Ginn, things like scholarships and the NFL would become possible.
"Everyone talks about faith," said Whitner. "Faith is when you believe something but you actually can't see it. But you still believe. He was the one that instilled that faith in me."
There were no time for fun and games now that Whitner was teamed up with Ginn. Literally.
Ginn didn't see it necessary for Whitner to attend homecoming dances or the prom. After a long day of football practice, Ginn would drop off Whitner and his son, Teddy, Jr., for another hour and a half session with a private trainer. Ginn forced the two boys to join the track team in the spring to keep them in shape and busy. If Whitner made a mistake in a class, his teacher's knew to come to Ginn with the information. He would make sure Donte wouldn't slip up again.
Ginn kept Whitner in line. But it was a motivational tactic in which Whitner harks back on to being a turning point. Ginn organized bus trips during the summer, so Whitner and other inner city kids from Cleveland could work at out college camps – Ohio State, Michigan State, Illinois, etc. – garnering exposure for potential scholarships.
On several of the high school preview magazines, Antonio Cromartie and Vernon Davis graced the cover. There was barely any mention of Whitner.
"We really thought we were inferior to those guys," Whitner said of Cromartie, Davis and the other lauded recruits. "Until coach Ginn instilled it in us that we weren't. We were just as athletic. We were just as intelligent. Belief goes a long way. He made us believe."
Ginn's investment in Whitner is one that will impact the Cleveland community for decades.
The safety earned approximately 60 scholarship offers, eventually settling on Ohio State. Inspired by the fruits Ginn told him was coming, Whitner graduated high school six months early, enrolling at Ohio State as a 16-and-a-half-year-old. Whitner was picked in the top 10 of the 2006 NFL draft, boasts two Pro Bowls on his résumé and a Super Bowl appearance with the San Francisco 49ers.
Whitner's just entering the prime of his career. His success on the NFL field is likely only beginning. But from where he started, sleeping on a couch each night, Whitner's made it.
The $50,000 donation will go towards life coaches at the Ginn Academy to better help students balance the pressure of lives. Other funds will go towards jersey's, cleats, and the famous summer bus trip's coach Ginn still takes his players on.
But putting a numerical value on Whitner's impact isn't giving his story and work ethic justice.
Now students all across Cleveland, no matter how tough their circumstances, can truly appreciate Whitner as a role model.
He turned nothing into everything.