When: September 27 (Sunday, 1 PM)
Where: FirstEnergy Stadium 
Series history (Last meeting): 10-11 (Browns 23, Raiders 13 in 2014 at FirstEnergy Stadium)
The stakes: With tough late season schedules looming, both teams will want this critical September win. No team since the 1998 Buffalo Bills has started 0-3 and made the playoffs.
Matchup to watch: RT Austin Howard vs. LB Paul Kruger. Last October, Kruger posted a career-high three sacks in the Raiders game, and admitted afterwards he could've had five or six if he wrapped up better. Kruger's constant pressure disrupted the rhythm of quarterback Derek Carr. Oakland will have to handle this matchup in 2015 if they want to have any type of success in Cleveland.
Offseason storyline: Build methodically through the draft. The Raiders feel like the hit a grand slam in the 2014 draft, landing Carr and linebacker Khalil Mack. This year, Oakland added Alabama wide receiver Amari Cooper and Florida State defensive end Mario Edwards Jr. in the first and second rounds. If both these draft picks pan out, and with the aging rosters of their division rivals, the Raiders might be on to something in the AFC West.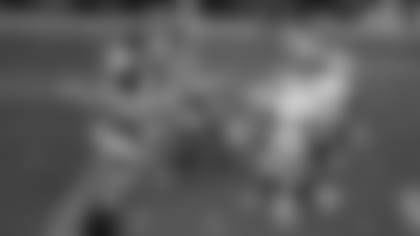 Biggest addition: DT Dan Williams. The 315-pounder really came into his own the last two seasons with the Cardinals as one of the better run plugging nose tackles in the NFL. And at 27 years old, there are reasons to believe Williams' best football is still ahead of him.
He gone: Coach John DeFilippo. The Browns' current offensive coordinator held Carr's hand last season as Oakland's quarterbacks coach, guiding him to unexpected success – 21 touchdowns and just 12 interceptions. Can Carr replicate it without the same tutelage?
The star: LB Khalil Mack. Cleveland's Joe Thomas called Mack the best defensive rookie player he's ever seen in eight NFL seasons. Coach Mike Pettine shared similar sentiments. Even in just one season in the league, some analysts already regard Mack as the best linebacker in the league against the run. His 75 tackles in 2014 don't tell the full story: Mack is ready to be a force in the league for years. 
The X-Factor: WR Andre Holmes. The 6-foot-4 target caught 47 passes for 693 yards last season, good for 14.1 yards a clip. It's clear he can stretch the field. And with more attention allotted towards Cooper, opportunities for Holmes should increase. 
They'll make the playoffs if...: Carr launches 30 touchdowns and takes a big leap forward; if Cooper wins Offensive Rookie of the Year and if Mack leads the defense to unforeseen heights.
The season will go south in a hurry if...: The team can't get Trent Richardson and the running game going; if the offensive line doesn't show major improvements and Charles Woodson's play finally drops off in his 18th professional season.