Danny Shelton, Cameron Erving, Nate Orchard, Duke Johnson and the rest of the Browns rookies will arrive in Berea on Wednesday for the beginning of training camp. There will be bro-hugs and story time from their summer vacations, but there will also be a mentality shift as they prepare for the first true grind of their professional careers. 
Cleveland's 12 overall draft picks were the most in the NFL, and the expectation from coach Mike Pettine is for this rookie class to help push the Browns into the playoffs this season. 
"You talk about guys that are competitive, guys that are relentless, guys that are tough – that's why we picked these guys," Pettine said in May. 
Upon their entrance in the building, the first-year players will have to pass a grueling conditioning test, be quizzed up and down on the playbook and go through extensive meetings with assistant coaches. That's where the groundwork will be laid for the 2015 campaign. 
Even though Shelton missed all of OTAs while he finished his classwork at the University of Washington, the 12th overall pick and his 339-pound presence were felt immediately in mini-camp. As the Browns reconstruct their defensive image to include a vicious run-stopping mentality, that new identity includes Shelton in the middle of the defensive line with his playmaking penchant and contagious work ethic.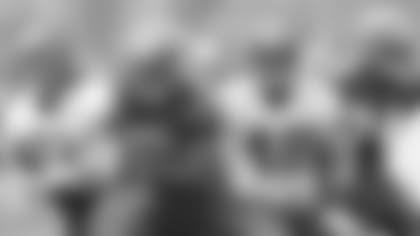 "He has all the talent in the world," defensive line coach Anthony Weaver said. "He is a ball guy. He's a guy that conscientiously takes the mindset every day of getting on the field and getting better. That's what you love about him."
Out of all the rookies during the spring, Erving might've had the most on his plate. The Browns have challenged the sharp 19th-overall pick to learn all five positions on the offensive line – a duty that entails intense memorization of the playbook. Whether he starts Week 1 against the Jets or not, Erving's already given the strong Cleveland offensive line something it lacked in 2014: depth. 
"It's a little more taxing (learning all the positions) but I love it. I love the process, every moment of it," Erving said. "I don't really think of it in a negative way, but more of 'hey, what can I do?' The more value I have, the more I add to the team."
As Cleveland Browns Daily host Nathan Zegura noted in his video previews, the Browns' outside linebacker room is pretty set with Paul Kruger, Barkevious Mingo, Scott Solomon and the second-round pick from Utah, Orchard. But at this point, the spot alongside Kruger seems like it'll be more of a committee approach. Cleveland coaches have noted several times that Mingo has improved his coverage skills and Solomon can set the edge as a run stopper. That potentially opens up a role for Orchard as a pure pass rusher. Remember, he had 18.5 sacks last season for the Utes.
"He's going to be a great fit in the locker room. I watched his press conference. You guys can see the charisma there," defensive coordinator Jim O'Neil said. "He's dynamic against the pass. He knows how to get to the quarterback."
And then there's Johnson, who, without question, was one of Cleveland's standout players during OTAs and minicamp. The Browns remain steadfast in their plans for second-year running backs Isaiah Crowell and Terrance West, but Johnson's dynamic skill set gives the Cleveland offense an explosive chess piece that wasn't on the roster last season. In spring practices, Johnson lined up some at wide receiver, was used in two-running back shotgun formations and returned kicks. 
"I think we've all seen what he can bring – the explosiveness and how we can turn a handoff or a short pass into a significant gain with a back like that," Pettine said. 
Other rookies arriving Wednesday include defensive lineman Xavier Cooper, safety Ibraheim Campbell, wide receiver Vince Mayle, cornerback Charles Gaines, fullback Malcolm Johnson, tight end Randall Telfer, linebacker Hayes Pullard, cornerback Ifo Ekpre-Olomu, tight ends E.J. Bibbs and Kevin Haplea, wide receivers Shane Wynn and Darius Jennings, running back Luke Lundy, offensive lineman Darrian Miller, outside linebacker Mike Reilly, cornerback De'Ante Saunders and defensive linemen Dylan Wynn and Tory Slater. 
Starting July 30, the Browns rookies will go through 14 training camp practices, a highly competitive Orange and Brown scrimmage at Ohio Stadium in Columbus, two joint practices in Rochester with the Bills and four preseason games. 
"I can't wait," Shelton said. "Let's get the ball rolling."