The Browns will be without defensive end Desmond Bryant (shoulder), linebackers Craig Robertson (ankle) and Scott Solomon (ankle), defensive back K'Waun Williams (concussion) and running back Robert Turbin (ankle) when they take the field Sunday against the San Diego Chargers.
Safety Tashaun Gipson (groin) and running back/kick returner Shaun Draughn (back) are both listed as questionable.
Bryant's injury means rookie third-round pick Xavier Cooper will play a larger role in rushing quarterback Philip Rivers. Cooper logged 30 snaps a week ago in his NFL debut against the Raiders.
"It is a good opportunity for Xavier, who did some good things in his first game," said coach Mike Pettine. "Anytime you lose a guy of Des' quality, the rest of the room feels that responsibility and has to step up."
The team likely will have wide receiver Dwayne Bowe and defensive back Justin Gilbert active, though.
After missing Week 3 because of a "numbers standpoint" with injuries on the defensive side of the football, Bowe will be in uniform against the Chargers, a team he has 843 career yards and six touchdowns against. A nagging hamstring injury limited Bowe's reps for several weeks, but offensive coordinator John DeFilippo said the 31-year-old had his best practice of the year Wednesday.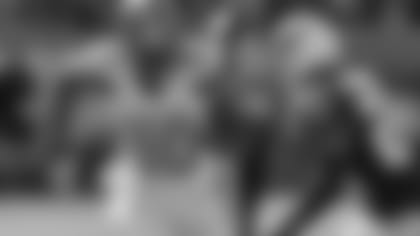 "I just think he is feeling more comfortable where he is physically and more comfortable in what we are doing offensively," Pettine said.
"I had great preparation this week," Bowe said. "I feel better than I did this week. The coaches are seeing it. I am ready. When your number is called, you have to be ready to perform. I feel good. I feel ready to go."
Gilbert's role on special teams could grow Sunday if Draughn is unable to go. Pettine said there is a reasonable chance the second-year pro could return kicks against San Diego. Gilbert set a Big 12 record with five kick return touchdowns at Oklahoma State.
"You just kind hear how the guys talk and how the week goes – I would be surprised if we don't go out there and play well," Pettine said. "I think we had a good week of practice. We are focused. We scaled some things back so we are fresh and we feel like we are prepared."
The key to Sunday's game seems obvious to defensive back Joe Haden – but nobody has really mentioned it this week. Addressing reporters in front of his locker, the 26-year-old knows how Cleveland can walk away with an upset victory on the road: Play four quarters of football. 
 "We play first half good, second half bad; we play first half bad, second half good – we just have to put a full game together," Haden said. "Everybody always talks about it and we come to practice super focused and locked in, but it has to show on Sundays, it's no point in talking about it. We were definitely locked in at practice because we know our performance we had last week wasn't up to our standards. Definitely we're locked in and ready to go."
The Browns will land in San Diego at approximately 2 p.m. Saturday afternoon and will hold meetings to cross the T's and dot the I's before taking on the Chargers on Sunday. The weather forecast is surprisingly calling for rain, which could make for sloppy conditions.