When the Mike Pettine-Ray Farmer era began Feb. 11, 2014, 67 of the players who will enter Cleveland Browns training camp Thursday weren't on the roster.
Let that number sink in. 67 new players. Only 22 remain from the team that met the Steelers in Week 17 of the 2013 season.
"We just feel so much better now," Pettine said about the Browns roster in an informal chat with beat writers Monday. "You know that's the case when you start to do the roster math. Look at the 53. Who are the guys we think we can even get to the practice squad? A lot of those decisions are not easy ones, which at least that way, you know you are building it the right way."
The truth is, Pettine and Farmer's vision together is as clear as it's ever been, and the current roster reflects it.
After going through their first draft, first offseason program and first training camp together last year, Pettine and Farmer routinely hit the "pause" button after each major event and filled out action reports. In preparing for these major events for a second go-around in 2015, the head coach and general manager felt more equipped, more in sync and more ready to have answers for any curveballs that may arise.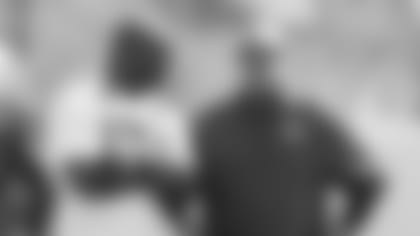 "You feel like Year 2 you have so many more answers to the test than Year 1," Pettine said. "I think our players know what to expect more from the staff. There's a trust and comfort level there. That first year is almost like being in a dark room and feeling your way along. Whereas we feel like there's a lot more light Year 2."
Last year's improved 7-9 record was first and foremost a reflection of the buy-in from the players. Pettine's and Farmer's joint strategy of adding veterans through free agency – Andrew Hawkins, Donte Whitner and Karlos Dansby – paid dividends. The confidence and vibe in the locker room was altered for the better.
Other additions who played like mainstays include Isaiah Crowell, Taylor Gabriel, Joel Bitonio, Christian Kirksey and K'Waun Williams – all of whom clawed their way up the depth chart for increased playing time.
"We haven't been very secretive about our identity," Pettine said. "Let's build on toughness, mentally and physically. You have to in this division."
Pettine and Farmer doubled down on their veteran leadership strategy this offseason – Josh McCown, Dwayne Bowe, Brian Hartline, Randy Starks and Tramon Williams – and some fans and media members are taking a wait-and-see approach. The draft, which featured an NFL-high haul of 12 players, reflected the pair's commitment to stopping the run (first-round DL Danny Shelton, second-round LB Nate Orchard and third-round DL Xavier Cooper) and becoming a dominant running team (first-round OL Cameron Erving, third-round RB Duke Johnson).
And Farmer and Pettine both know the noise and grumblings will remain until first-round picks Johnny Manziel and Justin Gilbert both prove they can stay on the field consistently.
"Do we bat 1.000 on personal decisions? We don't. But it's pretty close to it," Pettine said. "If you look at the roster moves we've made, from the beginning here through this past draft, and even adding Terrelle Pryor right up next to the things we're doing around camp, we are singing out of the same hymnal on virtually every decision."
As the calendar flips from July to August, Pettine isn't just saying "he feels so much better now" about the roster for effect. He and Farmer genuinely believe with the strengths of the offensive line and secondary, with new explosive playmakers and a veteran quarterback steering the ship, this Browns football team can challenge the national expectations and climb up the treacherous AFC North.
"I don't look at the roster and say, 'wow, if we get dinged up there or have some issues there, we're pretty thin,'" Pettine said. "I'd like to feel we've really bolstered our depth and we're going to have to make some tough decisions come cut time. That's when you know you're building it right."
By the way, the remaining players from 2013: Johnson Bademosi, Gary Barnidge, Armonty Bryant, Tank Carder, Darius Eubanks, Tashaun Gipson, John Greco, Josh Gordon, Joe Haden, John Hughes, Ishmaa'ily Kitchen, Paul Kruger, Alex Mack, Barkevious Mingo, Jordan Poyer, Craig Robertson, Mitchell Schwartz, Phil Taylor, Joe Thomas, Billy Winn, Travis Benjamin, Desmond Bryant