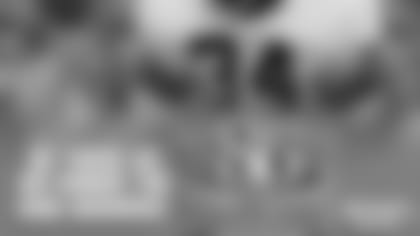 ](http://www.clevelandbrowns.com/news/article-5/1986-Browns-team-to-be-honored-1030/5bf3d609-a3ab-49e9-8ffe-2736870a4f04)
Initial comments ...
"OK, how's everybody doing? Obviously, another loss. Didn't play as well as I still think we can play, but obviously Cincinnati played well. (They) played well all the way around and they won the game, and that's the way it's going to be. What do you have?"
How disappointing is it to have quarterback Cody Kessler get knocked out of the game as he's playing pretty well?
"Yes, it's disappointing — (it's a) tough sport. He's trying to make plays and battling as hard as he can, and these hits — these quarterbacks only have so many of these hits in their body, you know? Pretty soon, guys don't get up all the time, and that's what's been happening. It's unfortunate. It's just been happening way too much, so on we go."
Was starting offensive lineman Cameron Erving pulled from the game due to an illness or play?
"Illness. Definitely illness. Not going to get into anything (else) — it was an illness and he wasn't 'pulled' — he didn't come out for the second half, so that's what happened."
Were you so exasperated at the end of the game you had your headphones off?
"Yeah, I'm took them off. I called the team out. Yeah, I was disappointed because I don't want anybody running the ball like that on us. Again, we've got to get some things squared away, but I take responsibility for it all. It's not our players; we've got to fix some things and keep working on some things and we will."
You've seen Jeremy Hill run before as a former Bengals coach — did he do anything different than what you expected today?
"No. He just played well. He played well, and they blocked well — gave him chances — and handed the ball to him. That's what Jeremy Hill can do."
Can you talk about how Kessler was playing before he left the game?
"He was playing good, and like I said, part of this thing is availability — you've got to be out there. You have to find a way to stay out there, and that's tough because he's trying his tail off, and I think we all know that. You're taking these hits at risk of not being out there. I know what he's doing. He made a hell of a play on that particular play to (tight end Gary) Barnidge, and then 'bam!' It's unfortunate, but I know our guys are trying hard. It's not from a lack of effort. It's not from a lack of trying — the luck's just not swinging our way. We're not getting those breaks right now."
What did you see in the Bengals that made you think quarterback Kevin Hogan would have success running the ball?
"It's just ... I'm trying to find a way to win. I'm trying to find a way to move the ball and score touchdowns on offense. That's our job and so, I told you guys before, we'll do whatever we have to do. I'm not opposed to doing anything if it means we've got a chance, but I just saw an opportunity for him to come in and make plays and he did that. He battled as hard as he could for a guy that, again, doesn't get a ton of reps, but enough to do what he did. I'm sure there's a few balls he wishes he had back, but he went in and battled like a quarterback should go battle."
Was part of that born out of necessity with wide receiver Terrelle Pryor having the hamstring injury issue?
"Nah, it was more and more so out of me making the decision I thought was best for our football team and not so much Terrelle and the hamstring. You try to do things differently all the time — these defenses are too good, and you'll get found out. There were some good things in there, but not enough to help us win the game."
Was Pryor less than 100 percent going into today's game?
"Yeah he was, and I appreciate him being out there. Those guys who this organization — this football team — means so much to, they go out there regardless of what the situation is and try to play, and he did. In the end, I was trying to keep him out of there and he's trying to get back in there. That's just what he is — the guy likes playing."
Anything you saw to account for the defense's struggles?
"No. We'll just go back and watch the tape and see what those things are."
Is Josh McCown getting close enough to maybe playing next week?
"I think there's a chance. We'll see. Again, we'll evaluate everything on Monday and see where he is and go from there."
At the end of the first half, you called a timeout. Was that in hopes of stopping the Bengals and getting the ball back before time expired?
"Yeah. If we would have stopped them and kept them from making the first down, we would have called another one. Again, we're trying to score every chance we get, and we were going to get the ball back to start the second half and have a chance to do something before the end of the half. We're always going to stay aggressive that way, unless (something) dictates otherwise."
How deflating was the Hail Mary TD to A.J. Green at the end of the first half?
"Very. I mean, those are the plays that shouldn't happen. But again, a great player made a great play. For them, he's a great player. I think we all know that. It's unfortunate. We've got to do a better job."
Have you ever taken your headphones off like that before? What was your mindset behind that?
"I don't like losing. I can get just like anybody else. I can get disappointed and upset just like anybody else. Because I took them off, I knew exactly everything that was going on. I can hear. It wasn't like I wasn't involved in the game, but I did (take them off).
I can get disappointed. I don't like where we are as a football team, and this is my responsibility, so, at the end of the day in my mind, I have to find a way to fix it — and as fast as I can as best I can, so that's what I have to do."
What was going on with starting offensive lineman Spencer Drango and the right tackle rotation?
"I thought Spencer deserved a start. I didn't think we played like I wanted us to at left guard, and you've got to keep trying these guys until you can get it right. I thought at right tackle — obviously, we've got to try to find a combination that's good enough to play — so I thought you've got to keep trying. If I do nothing, that's not good. And if you do something, maybe that might not be good enough, too. We're going to keep trying. I'm not disappointed in that. I think it's the right thing to do."
"Obviously, I made those decisions and I made the decision to start Spencer and the decision to put Shon (Coleman) in the game. Shon's a young player that's starting to grow, and you've got to find out what he is."
Did you know today that cornerback Joe Haden wouldn't play?
"No, we had the early morning workout with him and Terrelle, and he wasn't ready to play."
Did Bengals Head Coach Marvin Lewis say anything to you after the game about how hard your guys played for you?
"All of their players and coaches are very complimentary, but that doesn't do anything for me. I'm just being very honest. I'm not used to this. I don't like losing, but again, until we get it right, it's going to feel like this. But we're going to keep battling, I know that. I keep telling you guys — I'm not discouraged; I'm disappointed in losing. I've never lost like this. But I'm going to find a way (to win), I promise you that. I don't know when, I don't know how, but I'm going to find a way and that's what we've got to do."
Kessler goes into the concussion protocol this week, yes?
"Yes. Yes sir he will."
That's out of your hands, right?
"Yes it is."