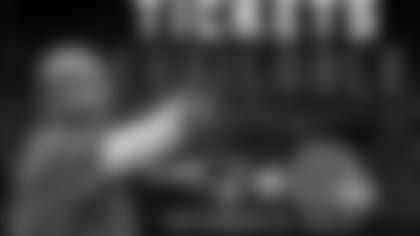 ](http://www.ticketmaster.com/FirstEnergy-Stadium-Home-of-the-Cleveland-tickets-Cleveland/venue/40971?camefrom=CFCBROWNSWEB_ARTICLES)
Opening Statement
"How's everybody doing? Tough one. I thought our guys fought extremely hard and we had our chances. That word that I keep talking about with our football team is finish and we've got to finish. It was a hard-fought game. I thought we did enough in all three phases to give us a chance to win the game and we had a chance to nail it shut and we didn't. I know everybody will say it came down to the field goals but I'm not going to put that kind of pressure on Cody (Parkey). Cody just got off a plane with us and I don't know him as well as I know this chair right here. I'm getting to know him and he came out there and he attempted to do what a lot of people don't do in front of the world and the country and try to kick a ball through the uprights. It was tough. Like I told him, and I told all our guys, I love them to death and we've just got to keep fighting. We've got to find a way to get over the hump, and we will. We've got to coach better, we have to prepare them better and we've got to get ready for the next one."
How pleased are you with the way WR Terrelle Pryor played?
"That's what I expect from Terrelle. I know Terrelle well, so what he did didn't surprise me. What I would like to have back is that third down play where he's got to go make the play. Like I told him, you've got to just keep growing and learning and you've got to let the play before that go. Whether people are holding you or grabbing you, here comes the next opportunity and then get the chance to make a play and the guy was able to strip the ball out. You've got to make plays when you get opportunities and that's what Terrelle's here for. Again, he fought hard. I thought our whole team fought hard but it's just not good enough yet. The truth is we're an 0-3 football team. That's what we are. What we are is what we are. We've got a lot of work to do. I'm not down. I think you guys know me pretty well. It's like I told the team, we're going to get ready. There's a lot of season left and there's a lot to do, but we'll come out and fight like we did today and keep working like we have every week. I keep watching this team, even though the results are not what we want, (we are) getting better every week. We're playing a lot of young guys in a lot of different places but I can't help but thank the veterans that allow me to coach them, from Joe Thomas … (John) Greco and over there on defense Demario Davis, Tramon Williams, Danny Shelton and the rest of the group. They've bought all in and I think you can see that because they're working hard and they're giving us a chance. We've had chances the last two weeks and that's all you can ask for in this league, an opportunity; and then you've got to find a way to win those games. And we will."
What about WR Terrelle Pryor on defense for that play, is that something you're going to continue with?
"I'll put him everywhere. Whatever we think it takes to help us win a game … That's what we're trying to do. I think you guys know me, I'll use anybody anyplace if I can."
How do you think QB Cody Kessler did today?
"He had some moments that we wish we had back, but he also did some good things too. Again, that was his first experience and it's tough. He's trying to play quarterback, the hardest position in all of the world in the National Football League, away from home, against a very hostile defense that are after you. I thought he held his own okay, but again, I have to coach him better. At the end of the day, there's some things we can do better that would give us a chance to win the game. So I take responsibility for this all, and you guys know that. We've got to fix this and we will. I think our staff, from myself, our staff and our players, we're eager to go back to work and get back out there."
On the long pass in overtime that got them down into the red zone, was that just a blown coverage?
"No, I think (Dolphins WR Jarvis Landry's) route was really good. It was the sell route, he kind of started in and got back out and he made a tremendous play. Our deal is always that we've got to take their stars out of the game. He had a tremendous game and trust me, it wasn't like we weren't trying to guard him. He won that and they're going to win some. The real good players on either team are going to win some battles and he did."
How did you decide to play DB Briean Boddy-Calhoun over DB Tracy Howard who seemed to be ahead of him going into this week?
"I just like his style. I liked what he did at practice and I told him he was going to have an opportunity to play. Regardless of whether we were totally healthy or not, I just saw something in practice. Our defensive coaches, (Defensive Backs Coach) Louie (Cioffi) and (Defensive Coordinator) Ray (Horton), they felt the same way that I did, let's give him an opportunity to go out there. He made a tremendous play and again, we have a lot of young guys that are battling their tails off. I'm hurting for them because of how hard I know this team works and I know what they're trying to do and what they're trying to do is hard. This is the National Football League with a lot of young guys; but one thing I love about these guys is they fight. They'll fight their tails off so we're going to pack up, go home, we're going to turn the page on this one and get ready for Washington next week."
Did K Cody Parkey kick at all Saturday before you left?
"No, he didn't. We can't kick the guy before we get on a plane. We had a little walkthrough, we had a little mock game and no kicking. We got here and he kicked before the game. It's a tough deal for him; but again, he didn't lose the game. I'll say that again, anybody wants to say who lost the game, just look right at me. This had nothing to do with the players and them. This is on me and I take full responsibility for it all."
What were the circumstances that put LB Corey Lemonier on the field for the strip-sack, was he just the last guy?
"We weren't down to the last guy; it was just time for his rotation. It's really interesting, I talked to him earlier in the week, just about his time in San Francisco and I think the guy is talented and I told him, you've got to make some plays. It's time for you to step up and make a play and here's your opportunity here, and he made a play. It's the same thing I told Cody (Parkey). I think there's a lot of trust right now between our players and our staff and I just think if we all just stay after it and don't get discouraged, I mean the record is what it is, you guys are going to write what you write and I understand that, but we're going to keep fighting, that much I do know."
Have you ever seen a player do as much as what WR Terrelle Pryor did in the game today?
"No, but that's what I expect from Terrelle. I've been knowing Terrelle for a while. I know what he's capable of doing, and he's capable of doing a lot. I know you guys might be surprised; I'm not. He's a very talented player, and he's only going to get better. I think his best football is still ahead of him. But he's kind of like me: he's a hothead, so I got to tone him down. He wants to get every call from the official, and they're not going to do that all the time. You just got to keep playing. Let me worry about the officials."
Did you end up using as much wildcat as you expected?
"Yes, I think we did. We did what we thought we had to do to win the game. We will continue to do whatever we think we have to do win games. (We) came close."
Was there any discussion about accepting the kick in overtime
"Yes, I had a thought … I thought our guys were hot. I thought our defense was playing hot. We had the strip-sack there. I thought it was the right strategy. We just got pinned back there. I think penalties really did us in today. We kept getting backed up at some key times. Obviously, in the scoring zone, we've got to convert some of those for touchdowns. (If) we do, it's a whole different game. That's why I said this is on me. It's not on our players. I've got to coach better. I've got to coach better all the way around"
Obviously a young team – and even younger today – but have you seen the growth and progress from week to week despite the outcome?
"I have. I think we're getting better. But the better part for me and for them is it needs to lead to wins. That's what we all want. That's why we do this. There're no feel-good stories and, 'All you guys fought a good fight.' I'm not into that. I'm into winning and losing, and right now, we're losing. Coach Jackson and the rest of the staff got to coach harder. We have to play harder and play better, and that's what the message was for our team."
There's no part of you that comes out even if it's a tough loss and you had a lot of odds against you?
"No. There are no moral victories in pro football. I'm going to say it again: from the first day I came … I didn't come here to lose, and I'm not going to change that. I'm not going to let our players feel like that. I did not come here to lose. We came down here on a flight, and we expected to beat Miami, and we didn't. And kudos to them. They were able to finish the game and won the game here at home."
What's the best thing QB Cody Kessler did?
"He made some key throws. He made some throws at some key times. (He made) some tough throws, and he stood in there. He got pummeled a few times, and he kept getting up. He could have sat himself on the bench, because I don't think he was feeling great, but he fought. Again, I think every player that was on our team today came out here fighting, trying to do everything they could to win. It just didn't go our way."
The Browns play the Dolphins in the second half of the third regular season game.