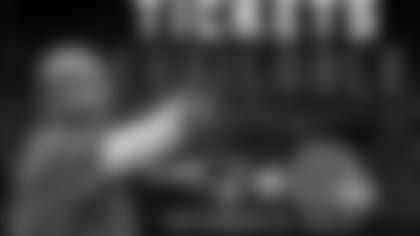 ](http://www.ticketmaster.com/FirstEnergy-Stadium-Home-of-the-Cleveland-tickets-Cleveland/venue/40971?camefrom=CFCBROWNSWEB_ARTICLES)"That is the National Football League when you don't finish the game. We are not going to complain or anything about the calls or anything like that. I just think we have to play better. We started off like a house of fire the first half, and then we weren't able to maintain it and finish it that way. That is what happens in the National Football League. You have to keep scoring. We didn't do that in the second half. They scored, and they scored more points than we did. I know there was a swing there from the blocked extra point to the field goal right before the half and a turnover and those things. This is a young football team that showed fight and grit a little bit. We just have to learn how to finish. That is my job and that is this staff's job. We make no excuses. We are an 0-2 football team right now. We have a lot of work to do to continue to get better, but I saw us get better from Week 1 to Week 2, and hopefully, we can continue to do so."
On if the taunting call at the end of the game was fair:
"I'm not going to say if it was or wasn't. I haven't seen it. I've heard different sides of it, but they called it so we have to do a better job of making sure that we get the ball to the official and go from there."
On what is physically wrong with QB Josh McCown:
"I'm not totally sure what is wrong. We will probably get a chance to talk to the medical staff. Obviously, there was something there but the guy kept battling and playing.
"The last ball, I know everybody wants to say we just threw it up and it is on Josh. It is not on Josh. At the end of the day, he has obviously got to protect the ball better, but again, I know he was trying to make a play and I take responsibility for all that. The guy battled his tail off, and I know he played under a little duress from their defensive front. Also, he was battling a little injury but he fought as hard as he could."
On if McCown will play next week:
"I have yet to talk to our medical people about it."
On the stretcher in the locker room postgame:
"Stretcher? I didn't see it. You know how it is as a coach, you start replaying this game over and over again. I did not see a stretcher in the locker room. I will find out as soon as I leave here."
On WR Corey Coleman's two TDs and personal foul penalty:
"Can't do it. They are always going to see the second penalty. That is a moment for him to grow and learn. These games are tough. People are going to say things to you. People are going to push you and all that, but you can't retaliate. If you do, you are taking a chance of them seeing you do it as opposed to the other guy. That is what happened. It is something we have to learn from. It is something we can't do."
On if McCown's injury impacted the Browns offense in the second half:
"It had a little bit. I wanted to protect him a little bit, but at the same time, I thought we played. Plays were still there to be made. Whether we were throwing the ball and running the ball, there were some plays we didn't make. Some we made early and some we didn't make, and that is pro football. You just have to make more than you don't make. I'm disappointed as anybody for the guys. They have worked extremely hard. Last week, they had a great week of practice. They were ready to play and that showed, but again, it is my responsibility to make sure in the second half that we are ready play two (halves). We can't just play one half. We have to play for 60 minutes. That is the difference. We had our chances to win this game, but we didn't. I tip my hat to Baltimore. They did. We have to grow from this and keep learning and get better."
On if the game came down to the blocked extra point and missed FG:
"I'm not going to say it directly did. There were a host of other plays, I'm sure, but when you look at the point swing, that is what people will point to will be the difference. Obviously, it had a huge effect on the game, but there were so many other plays that I saw that we were standing out there that we had chances at. We just have to continue to grow from it."
On if the Ravens player who blocked the extra point came through the middle:
"Off of our left side."
On McCown's lower third down completion in the second half was a result of him not getting the ball out in time:
"Not getting it out on time, I think Baltimore made some adjustments. We still had some chances. I thought we didn't protect as well. It is something you always have to do, especially on third down when everybody probably knows you are throwing. We are not going to make excuses. We just have to get better. We are not where we have to be yet, and I am being very honest. That starts with me. That starts with all of us. We get it. We have some work to do. I know one thing about that group, they are going to keep battling and they are going to fight, just like they did today. We will watch the tape, we will grow from it and we will get ready for Miami."
On if QB Josh McCown is as tough as any QB he has played with:
"Josh? He is tough. There is no question he is tough. That is why he played in this league as long as he has. He is very tough. He knows how to make plays. He made some outstanding plays, and I am sure there are some he would like to have back, but that is the NFL at its best. You are going to make some, you are going to miss some and you have to make more than you miss. That is just the way it goes."
On not hesitating in sending K Patrick Murray out for a 52-yard field goal attempt:
"Yeah, I thought he had a chance. I thought, boy, if we could get that, we would seize momentum a little bit. Hindsight is 20/20. You look back, maybe you punt them down there and hold them. Maybe you do not put them in a situation to make a score, but at the same time, you have to give your players a chance. You have to give them opportunities. I have seen him do it, and unfortunately, that is one he missed."
On what he learned about McCown today:
"Nothing surprising. He plays. He is going to battle and go out there and give you everything he has. He wants to be on the field all the time, and I appreciate that. I appreciate what he does."
On WR Terrelle Pryor Sr. and if the officials are looking at him closely for possible penalties, particularly after multiple penalties in the preseason:
"I'm sure they are. He is a big guy. I'm sure, just like we do, we see things on tape that we ask the officials to take a peek at, and they are going to do the same thing against us. I'm sure the officials are looking for certain things and sometimes those things will get called."
On how to rally a young Browns team after losing a game when the team held a 20-point lead:
"We rally. It is not how. You go back to work. We have a game next week. Can't hang our head in the sand, nobody is going to feel sorry for us. I don't know what that means. We have to go to work, and that is all it is. That is two games. There are 14 more of these. Who knows what is going to happen the rest of the season, but I think if our players will keep getting better and keep growing – we keep talking about this young team – and learn from the things that are happening to us, I think we will be where we need to be as we get going. That is what is important for our team."
On how close the Browns came to taking McCown out of the game:
"I came very close until the medical staff told me that he is back up. He is out until he is up so there was a point he was out, and then they came back and said, 'Josh is back.' He went back out there and played."
On OL Cameron Erving's status:
"I think the first part was some cramps in his back. Those things happen. I didn't hear the second part of it when he went out there at the end. I was trying to focus on making sure we got the right call. I am sure I will find out here exactly what is going on with Cam."
On TE Randall Telfer's status:
"I'm not sure yet about Randall. As soon as I get more information from the staff, I will make sure that you guys get that information."