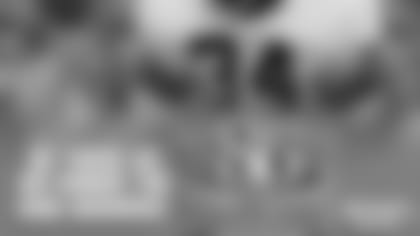 ](http://www.clevelandbrowns.com/news/article-5/1986-Browns-team-to-be-honored-1030/5bf3d609-a3ab-49e9-8ffe-2736870a4f04)Again, we came up short. Guys continued to fight and play hard. Obviously, our third down ability to keep the ball wasn't very good. Our ability to run the ball wasn't very good. I take responsibility for those things. I have to fix that. That's not like us. I give Tennessee the credit for that. They were the ones to make that happen. I have seen some things we can do better. Until, me and the coaching staff, we fix these things that we know continue to bring us up short, we will come up short. Our players are playing extremely hard to give us a chance to be in games and win games. We just have to do better.
(on the decision to go for two points)
I went for two early because I knew at some point I was going to have to go for it. I'd rather go for it now than have to come back and do it again. That's why I did it. You take a whack at it. Obviously, we didn't make it. Then we had the kick and try to get the onside, and I thought we gave ourselves a chance. I felt, at that time, that is what we needed to do because I knew we were going to need to go for two.
(on if he would go for two again if given the chance)
Absolutely. I am making these decisions with very good information from people I trust. That is what we decided to do.
(on if he should have kicked the extra point in an attempt to extend the game)
We have a difference in philosophy. I know everything is going to get questioned.  It's on me. I know some people will say you shouldn't. But we did. We didn't make it.
(on the gutsy play of Cody Kessler)
He played hard. Cody (Kessler) continues to get better and works hard at it. He gave us a chance to win, to be in the game. Our start in the second half wasn't as well as I think it could be, so we have to do that better.
(on moving forward despite the 0-6 record)
Oh yeah, this team continues to do that. This team doesn't quit. I don't sense that. I sense that there are some plays we are leaving out there that we can do better. People get ahead and we start chasing. We have got to play consistent for four quarters.
on injury to DB Jordan Poyer)
He's at the hospital, where he will be and he has a lacerated kidney. So we're going to make sure that we…I think he'll be here until we find out more but that's what it is. Obviously we all know that's pretty serious, so we'll see where he is from there.
(on the whether the hit on Jordan Poyer was dirty)
It's football. I don't think the guy was trying to hurt him. I think he was trying to block him and sometimes you aim in spots and you hit some other things. Obviously, you know…again, it's football. He took a tough shot.
(on performance by WR Terrelle Pryor Sr.)
Just keep playing hard – I expect those things from our guys. I know everybody else was a little surprised but that's what I expect. I expect us to play better and we will.
(on decision with DB Joe Haden)
Yeah, we worked him out. Just let him be with our guys and he wasn't able to play and he didn't play. So, move on.
(on takeaway from this game and being 0-6)
We're 0-6. You just said it. We're going to fight. We don't know anything else to do but to do that. So, I'm not…we are fighters. Our coaching staff are fighters so I'm not concerned about that. I'm concerned about finding a way to win. At all times, that's just what we've got to do. We've got to do it better, do it better than what we're doing it.
(on problems with the running game)
They didn't block them very well. They played better than us, so we've got to get better. Again, I take responsibility for that. We've got to fix that.
(on protection for QB Cody Kessler)
We've just got to get better. All of those things that you guys feel, see, think, they are all directed right at me. It's my responsibility to fix it and we'll fix it. Our players are giving me everything they have, I know that. I've got to put them in better situations all the way around – offensively, defensively and special teams. That's my responsibility and that's what I've got to do.
(on LB Cam Johnson's performance after returning from a bruised lung)
We'll see. I'll need to watch the tape. It's hard for me to comment on any of that until I see the tape.