South Carolina defensive end Jadeveon Clowney
Jadeveon Clowney showed at South Carolina's Pro Day Wednesday why many draft analysts had the star defensive end pegged as the number one overall pick only a few months ago.
Thanks to a performance that reinvigorated the excitement he generated in 2012 as a sophomore, Clowney might, in fact, become the top choice on May 8.
His pro day was mostly filled with the typical quick sprints, back-pedaling, and swim moves. He rarely seemed gassed. At 6-foot-5 and 266 pounds, Clowney appears to be in top shape.
Near the end of Clowney's workout, Houston Texans defensive coordinator Romeo Crennel intensely hopped into a drill, barking orders at Clowney. Perhaps it was a small detail. Or, perhaps, the Texans are seriously considering pairing Clowney next to J.J. Watt, a scary thought if the South Carolina lineman lives up to his enormous potential.
During NFL Network's coverage of South Carolina's Pro Day, Mike Mayock called Clowney "the best defensive lineman, talent-wise, on the planet," on several occasions.
Some will disagree with the analyst, especially given that Clowney had only three sacks and 41 tackles last season as a junior. There were a few games where he was almost invisible. Media critics wondered whether Clowney was playing at 100 percent, because he was too concerned with avoiding injury. They wonder if he's the kind of guy who lives, eats and breathes football. They wonder if he's a guy a team can build a franchise around.
"I think I showed everyone I'm a fighter," Clowney told Mayock after the workout. "I'm going to push through everything they throw at me. That's really what it's about. (Do you) got what it takes?"
One challenge Clowney might face in the NFL is displayed in the tweet below: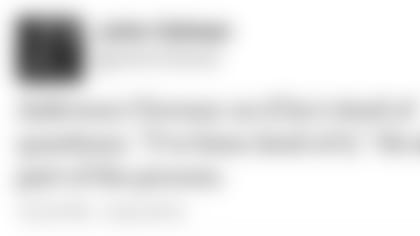 Those uncertainties about Clowney's desire to excel aren't likely to go away unless he wins defensive rookie of the year. It might very well take several seasons for Clowney to shed that label.
"The work ethic questions are fair," Josh Kendall, South Carolina Gamecocks beat reporter for The State newspaper in Columbia, S.C., said Wednesday on "Cleveland Browns Daily, Driven by Liberty Ford." "We saw things that were red flags from the beginning of the season. …I understand why people have these questions."
But Kendall did say he would still take Clowney with the top pick. Is Clowney the surefire Pro Bowler that many observers thought he was a year ago, or do his struggles in 2013 make him a long-term project? Those questions could have certain NFL draft rooms entrenched in debate come May 8.