Joe Jurevicius' special memory with the Muni Lot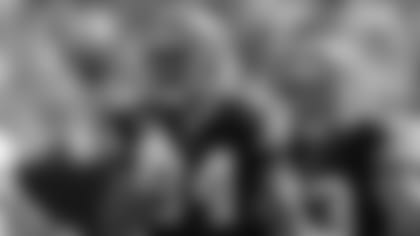 There's a moment in Joe Jurevicius 11-year playing career that stands right next to his three Super Bowl appearances.
It was the home opener of the 2006 season – the first time Jurevicius would be donning his hometown Cleveland Browns jersey. The productive possession wide receiver took a hometown discount to leave the Seattle Seahawks because he wanted to finish his career wearing the brown and orange.
"I would've had to play 1,000 more years to get to the Hall of Fame. I just wanted to come home," said Jurevicius.
A native of East Lake and star at Lake Catholic High School and Penn State, Jurevicius was quite acquainted with Cleveland's famous tailgating spot the "Muni Lot." That was the parking lot where Jurevicius first started falling in love with football.
Jurevicius decided to drive out of his way to see if the Muni Lot was still as jumping as it was back in the late 1980s.
"I saw someone wearing my number 84 Browns jersey with my last name on it," said Jurevicius. "I can honestly say it brought me to tears. I'm trying to fight all these emotions – I'm back home, I'm a professional and I see someone wearing my jersey cooking hot dogs and drinking beer. The Muni Lot has as much folklore as the Browns team does. That's an ultimate memory for me."
From then on, Jurevicius' pregame routine became to drive a lap around the Muni Lot. Just seeing the fans smiling and milling around would get him as pumped for a game as he's ever been. Because he was just like them.
Every summer in the late 80s and early 90s, Jurevicius would go to Lakeland Community College to watch the Browns practice during training camp. Jurevicius would beam with excitement every time Bernie Kosar threw a pass, or Kevin Mack busted a long run. But it was the players' cleats crunching against the gravel which became his favorite sound in the entire world.
"That sound to me always meant to me football season was finally here," said Jurevicius.
Browns-Steelers games in particular were held in the highest regard in the Jurevicius family. Watching from a tube television with rabbit ears in a garage, Jurevicius was surrounded by close family and friends. The garage doors remained open and every bundled up with their hot chocolate and Bailey's coffee.
Jurevicius, who is now a contributor for ClevelandBrowns.com, is floored by all the changes to the facility in Berea. After being away from football for five years and owning and operating a successful dry cleaning business, Jurevicius was blown away by the attitude change in Berea.
"The change is here is so conducive to winning," said Jurevicius, who appeared in Super Bowls with the New York Giants, Tampa Bay Buccaneers and Seattle Seahawks. "What Mr. Haslam, Alec Scheiner and everybody is presenting here is that this team will be top-notch – and they are trying to do it fast. That's become very apparent."