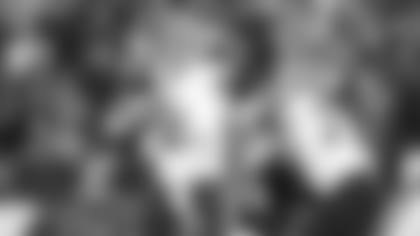 Of course Duke Johnson Jr. was disappointed. The competitive fire that made him one of college football's dynamic playmakers hasn't gone anywhere.
The Browns' rookie quarterback acknowledged as much Wednesday as he stood in front of his locker just a few hours removed from learning he'd remain the backup to Brian Hoyer. Manziel, though, was relatively upbeat as he deftly handled a barrage of questions for nearly 8 minutes.
There was a silver lining to take away from the past view days of waiting and uncertainty. His performance against the Bills, which included his first career touchdown, was a major reason why an announcement about the Browns' starting quarterback for Sunday's game against the Indianapolis Colts had to be made in the first place.
"Hopefully it was tough on them," Manziel said. "Obviously (Mike Pettine) is a head coach. He's able to handle situations like that, so hopefully I did make it hard on him. Hopefully those guys see that when I come in here I'm very serious about this game and very serious about this team, but more than anything, I want to win."
Manziel's drive didn't lead Cleveland to a victory Sunday at Buffalo. The deficit was too big, the time too short, but it was the most encouraging development yet for the rookie who has almost exclusively shown coaches what he can do behind the scenes in Berea. "The unknown" ultimately worked against Manziel for this decision, but he's put two drives -- one good, one bad -- on tape as the Browns hit the home stretch of 2014.
"I was very understanding of that, that they were going to continue to go with Brian, but I think I obviously came out last week and showed that I can come out and play a little bit," Manziel said. "We had one successful drive and one, based off a bonehead play by me, one play kind of killed it. (There were) some good things and some bad things taken away from last week." Manziel was inserted into last week's game to provide a spark for an offense that was stuck in neutral throughout the second half. That's exactly what he did, but Pettine stressed some perspective was required before a decision as important as the one announced Wednesday was made.
Buffalo's defense had most of its starters -- or at least players who see regular action -- on the field when Manziel played, but the philosophy adjusted to the circumstances of the game. Also, the Bills had little reason to prepare for Manziel in their practices throughout the week.
"I think when we were able to sit down in a less emotional state and just kind of weigh it all … it was close, and it was difficult because of how he played," Pettine said. "Still, we arrived at the decision to continue with Brian."
Pettine indicated a special package of plays for Manziel to run against Indianapolis or some of the Browns' other future opponents has become "more of a discussion" in recent days. Before his action against the Bills, Manziel last saw the field in the Browns' late-September win against the Ravens, when he caught a 39-yard pass from Hoyer on a play that was ultimately nullified by a penalty. He threw an incomplete pass one week earlier against the New Orleans Saints.
Manziel said his preparation level won't change. He'll be ready to play Sunday just like he was in Buffalo.
"I feel like I'm seeing things a lot better," Manziel said. "I'm getting used to the terminology, and it's beginning to come kind of second nature. I figured that that would be the case as the weeks went on and the days continued to roll by and get more comfortable with everything. More than anything, I'm most excited about that."