On his left shoulder and arm:
"It is alright. I just fell on it a few times. I'll be alright, though."
On what X-rays on his shoulder showed:
[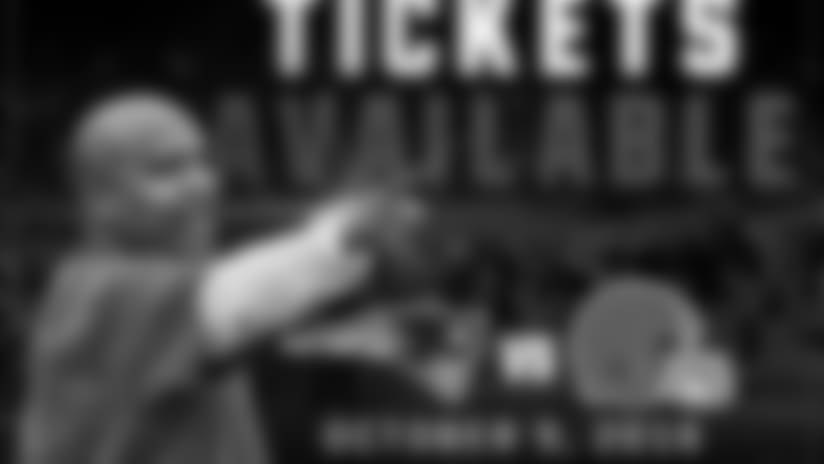 ](http://www.ticketmaster.com/FirstEnergy-Stadium-Home-of-the-Cleveland-tickets-Cleveland/venue/40971?camefrom=CFCBROWNSWEB_ARTICLES)"I'm going to defer all of those questions to the medical staff. They will take a look at them and let me know what they find out."
On if he ever questioned whether or not he would be able to return to the game:
"No, not really. It wasn't in my mind."
On if he will play next week:
"That is my plan."
On how deflating the taunting penalty called on WR Terrelle Pryor was for the Browns:
"I didn't see what he did. Obviously, very deflating because we are going to get down there tight and have some shots at the end zone where the clock is kind of no longer a factor. That hurt, but again, I didn't see what he did or what happened. All of us kind of had little things here and there that we should have done different that would have helped the outcome be different. We will look at that and make those corrections."
On the Browns momentum in the first half and losing it a little bit and not scoring in the second half:
"It is disappointing. For us, who we are as a young team, there are things we have to learn and how to ride these waves back and forth and grab some momentum back and go put the ball in the end zone. We will have to look at the tape and see. I know, certainly, just as you look at the interception before half by me was one of the things that attributed to that, and that can't happen. I will speak for myself on the part I did in kind of losing some momentum, and I just can't do that."
On WR Corey Coleman's two TDs and a penalty late in the game:
"It is what we talked about. Everybody kind of did something. For me, I'm focused on the interception before half. I'm really disappointed in that. I think Corey will look at that and go, 'Man, that is something that I have to clean up.' It can't happen because it bumps us back out of field goal range. You get three there, and we are driving with a different mentality at the end. All of these things are part of the growing curve with a young team. It is just disappointing because we were standing right there with a chance to win the ball game against a good team. We just have to reload and go back to work."
On getting hit continuously and landing on his left shoulder and the source of his ability to play through discomfort:
"It think it is just not wanting to not be out there with your guys. I have a dad and an older brother who get up and go to work and sometimes they don't feel great and they go. They go and they grind. I have two little boys that are playing football now. They get hit and they get banged up, and I am trying to teach them what toughness means. For me, it is those things and just knowing the window for me right now and understanding that I don't want to miss snaps. I don't want to be out there without my guys. Unless it is going to fall off, let's try to make it work and make it go. That is my mentality.
On if he knew he would come back to the game after being taken into the locker:
"Yeah, we just got an exam to make sure we were in the clear and then let's get back out there and playThe doctors did their job and everything was OK so I went back out there."
On OL Cameron Erving being taken to the hospital strapped to a board and not having another C on the roster:
"First of all, when anyone leaves here strapped to a board, it is not good. My prayers and thoughts are with Cam. Hopefully, everything will be alright, but I told (OL John) Greco he did a heck of a job sliding over. He did everything he could for us. The snaps were great. It is a hard to just slide over to center and be in the shotgun right away. Grec did awesome, and we were moving the ball down the field. We will let the coaches and manager figure out how this will affect us, but for the guys that are here, we know that it is the next man up mentality. Greco did a great job of sliding in. We will make the appropriate changes if we need to. Hopefully, Cam is alright and we will move on from there."
On if his shoulder injury is alright or if it could potentially be something serious:
"We will see. My mindset is that everything will be alright and we will move ahead business as usual. It is just a matter of letting the doctors and trainers do their job, and my expectations are to play some ball."
On continuously landing on his left shoulder when hit:
"Yeah, just for whatever reason, it just kept going down on the left side. It obviously was pretty frustrating. Our guys fought. It never goes without saying how hard they fought. It just was one of those deals and you just happened to keep falling on that left side. Obviously, it does not feel good, but that is part of the game."
On if he felt the Ravens defense was targeting his shoulder, specifically after the play when he was hit when giving himself up:
"I don't know. I can't speak for them. I just know in that moment that I thought I had given myself up. I thought that was clear. More than anything, I just thought there would be a little bit more protection there from the refs, but they make their calls and we trust their calls and we move forward. I don't know. I can't speak for what their defense was doing. They are a hard-nosed defense. They play hard and they play physical. They did that today."
On responding to the Ravens big hits by converting on third downs during the first half of the game:
"My goal and our goal in every category is to be up there in the league in third downs. That is something that we shoot for because it allows our offense to stay on the field and our defense to stay off the field and let them rest. It was one of the things that we came into this week knowing we needed to improve on. For me, it is just an area of emphasis. It is just a heightened awareness whenever it is third down that we have to go and convert. I feel like we did a good job of that in the first half, and it could have been better in the second half, obviously."
On if there was a point that he felt the lead and the game was starting to slip away from the Browns:
"Like I said, I think there are different moments, but for me certainly, I just walk away going that the interception at the end of the half was definitely one of those points where we gave a little bit back and gave them there. I am just disappointed in myself for that one. It can't happen. (WR Rashard) Higgins was trying to and was working a guy on the route, and he and I have to get on the same page on what was going on. If I can get off of him and check the ball down or something but just keep the ball in play and not turn it over there at the half and not give them three, I think we let a little bit of momentum go there."