ClevelandBrowns.com has you covered with all the news, notes and quotes as the Browns enter the second week of 2021 Training Camp at the CrossCountry Mortgage Campus.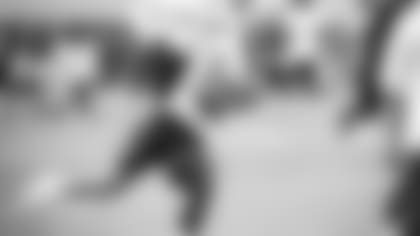 Anthony Schwartz learning to hone world-class speed for peak performance on gamedays
Aug. 19 (1:39 p.m.) - Anthony Schwartz has needed to remind himself at times that he can't run as fast as he wants in every practice drill.
That mentality is what Schwartz, a third-round pick at WR and one of the fastest players from the 2021 draft class, is used to when he plays football — or any sports, for that matter. He won a silver medal in 100 and a gold medal in 4x100 relay at the IAAF U20 world championships in Finland in 2018 and used his speed to become one of Auburn's most versatile receivers.
Schwartz isn't used to slowing down, but after a hamstring injury sidelined him for most of the first two weeks of training camp, he's learning to adjust to the slower speeds often encouraged throughout certain drills of training camp.
"It's tough because I want to go out there and show off my biggest strength," he said Thursday, "but at the end of the day, it's all about staying out there, staying healthy and being available. I just know that you can't run every play at 22, 23 mph. You've got to be able to pace yourself and get through the whole time."
The Browns want to give Schwartz as much time as possible to acclimate to the NFL and believe his speed could provide a unique wrinkle to an already explosive offense in 2021. Injuries in minicamp and early in training camp have hampered Schwartz's time on the field, but he could finally participate in team reps Wednesday and garnered plenty of reps, a trend that could continue as the Browns prep for Week 1.
When those reps do come, Schwartz will have to remember to save his speed. The Browns know it'll show up on gameday if he can pace himself in practice.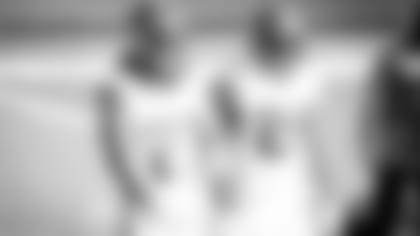 Stump Mitchell focused on long-term health and availability of Chubb and Hunt, not 1,000-yard marker
Aug. 18 (1:49 p.m.) - Browns run game coordinator/running backs coach Stump Mitchell predicted last season that Nick Chubb and Kareem Hunt would both surpass 1,000 rushing yards in 2020.
His prediction, which he stated in December as both running backs helped the Browns make their push to the playoffs, fell just short of reality — Hunt finished 159 yards short of the mark, while Chubb finished with 1,067 yards. Both players were still immensely important toward the Browns' 2020 success and are expected again to be two of the biggest playmakers in 2021.
Mitchell believes the goal, which has only been accomplished by a rushing duo seven times in NFL history, is still well in range for his backs.
"I think it can happen," he said Wednesday before the Browns' 15th practice of training camp. "You never know. The more toys that Kevin has, the better he is as a play caller. You never know what's going on in his mind. It's always something creative to catch the defense off guard."
Mitchell said the only thing that prevented the duo from reaching the marker last year was injuries. Chubb missed four games due to a knee injury, and even though that made Hunt the primary back, the Browns didn't run the ball as frequently as they did when Chubb and Hunt were both at their disposal.
The durability of both backs, however, can't be questioned. Those four games were the only games Chubb has missed in his career. Hunt hasn't missed a game due to injury since he was drafted in 2017.
If both backs stay healthy, they'll also benefit from the addition of a 17th regular season game, which the NFL implemented to its schedule this season.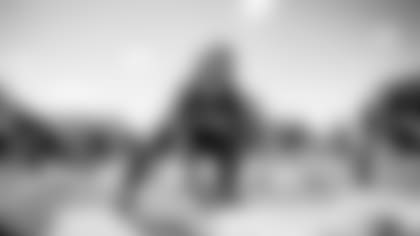 Grant Delpit, Ronnie Harrison Jr., Anthony Schwartz return to practice, Mack Wilson 'day to day' with shoulder injury
Aug. 17 (2:36 p.m.) - The Browns will welcome a trio of players back to practice Tuesday.
Safeties Grant Delpit and Ronnie Harrison Jr. and rookie third-round draft pick WR Anthony Schwartz are all expected to return to practice after missing time with hamstring injuries. Each player has been out since the first week of camp.
"We'll get some guys back today off the injury list and back on the field," Stefanski said.
Stefanski also said third-year LB Mack Wilson will be "day to day" with a shoulder injury suffered in Saturday's preseason game in Jacksonville.
"I think we dodged anything long-term," Stefanski said. "He's going to work hard, and hopefully we see him sooner rather than later."
Anthony Walker Jr. says Jeremiah Owusu-Koramoah 'brings a different element'
Aug. 17 (1:50 p.m.) - Anthony Walker Jr. believed rookie LB Jeremiah Owusu-Koramoah wouldn't need much time to adjust to the NFL after seeing how fast he played the game in minicamp.
"Elite athlete as far as explosiveness, quickness, speed, instincts and all of that stuff," Walker said in June. "He is a freak of nature. I have no doubt in my mind that he will be a great player in this league."
"JOK" lived up to Walker's hype in Saturday's 23-13 preseason win against the Jaguars — he amassed eight tackles, one sack and three tackles for a loss in his NFL debut. He immediately made an impact as soon as he entered the game in the second quarter, stuffing a run play for a 1-yard gain and maneuvering around a block two plays later to record his sack.
"He was as good as advertised," Walker said with a smile Tuesday before Day 14 of Training Camp. "I kind of advertised him, so he made me look good. He made me look like a smart man."
Owusu-Koramoah and Walker could be playing more together if both continue to perform well in training camp. Walker, a five-year veteran who established himself as a tackling machine in his previous time with the Indianapolis Colts, is the leader of the room, while Owusu-Koramoah is a promising player who appears ready to make a case for a heavy load of snaps his rookie season.
Both players contain speed and excel when in pass coverage, two traits the Browns have appeared to covet most in their linebackers room, and Walker has no doubt Owusu-Koramoah will be up for the task if he continues to quickly progress.
"He's explosive, man," Walker said. "He's been dominating on the practice field, and obviously you saw it this weekend. He brings a different element."