On Monday night in Akron, it became clear why there is no other fan base comparable the Cleveland Browns'.
Approximately 320 Browns Backers from the Akron chapter packed Tangier restaurant for an elaborate event. A silent auction and cocktail hour took place at the beginning, and it felt more like a family gathering than a football affair with all the laughter and hugs around. Later on, a fancy steak and potato dinner was served with a delicious chocolate cake for dessert.
But the real moment the Browns Backers will take away from the evening, was when MC Andy Baskin introduced Browns head coach Mike Pettine. Nearly the entire banquet hall rose to its feet, giving Pettine a 30-second long standing ovation, with the Dawg Pound barking in the background.
It was an unforgettable moment for the loyal Browns Backer's in attendance
"When this event was presented to me, I knew how special this Akron club was to the Cleveland Browns," Pettine said in his address to the crowd. "It was a no-brainer for me to come down and represent the organization."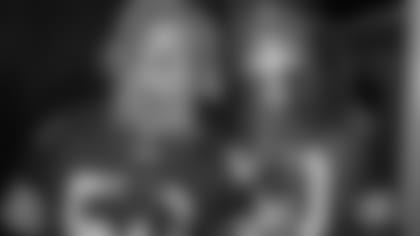 During a Q and A with Baskin, Pettine reiterated talk is cheap in regards to saying the Browns are an improved team. It'll be up to Pettine to ensure the proper work is put in during OTA's in the spring and training camp in the summer.
"For us, it's all about making the fans proud," said Pettine. "That's the one thing that we've talked about from day one. To the players, to the coaches as I hired them, was just how important football is here in Northeast Ohio."
As their conversation about the quarterback competition and the key free agent signings wrapped up, Baskin asked Pettine, 'What's the best way to be a Browns fan?'
"From what I've seen so far, and as history has shown, the Browns' fans are the best in the world," Pettine said, to a thunderous round of applause. "You don't need to change anything. Just be ready to get the stadium rocking in the fall."
Is Pettine wrong in saying Browns fans are the best? Name another NFL fan base who is this organized and fired up about their football team in mid-May? Good luck finding that team.