Vice president of communications Peter John-Baptiste:"Before we get started, I just wanted to say it is a great day to be a Cleveland Brown. Having these three, fine young gentlemen come into our organization today, get a nice tour, meet with ownership, meet with (Head) Coach (Hue Jackson), (Executive Vice President of Football Operations) Sashi (Brown) and (Chief Strategy Officer) Paul DePodesta. It has been a good day for them so far. Before I turn it over to them for questions, we also want to introduce their family members that came in with them. First, we have Jabrill's mom, Ivory Bryant. This is Faith (Njoku), who is David's sister and Myles' dad Lawrence (Garrett). We will go ahead and open it up to questions."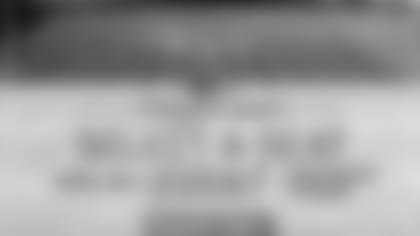 ](http://www.clevelandbrowns.com/news/article-landing/Browns-to-host-Select-A-Seat-event-April-29th/427d2087-a15d-4a65-af3e-cce9be9dfb3f)
On if defensive coordinator Gregg Williams got in Garrett's grill today:
Garrett:"Not yet. Waiting on it though."
On the details of his workout with the Browns:
Garrett:"They really just put me through not a warm-up but what we usually do for individual at Texas A&M. We did some up-down. We did some pass-rusher drills. We went over some bags, just get your blood flowing and what gets you ready for practice. We ran a 200. I guess he had me run down, run back warm-up, stretch then went through the bags and that was pretty much it.
On the toughness of the workout compared to other teams' workouts:
Garrett:"I only did one workout."
Garrett:"It was pretty relaxing for me. It was stressful waiting for that time to tick down and waiting for that call, but other than that, I was surrounded by family and friends. I did not feel any real pressure. I was just trying to make sure I got some sleep."
Peppers:"I was kind of in the same boat. It is a blessing this whole process. You have to go through it. I was with my friends and family – great music and great food. There were all positive vibes. That was the reason I could take a little load off a little bit."
Njoku:"Piggybacking on what they are saying, it was the same for me. It was great seeing the family and friends just as happy as I am. There were a lot of people there to see me when my name was called and everything. It was just a big blessing like Jabrill said."
On where Peppers was last night and if he planned his celebration dance:
Peppers:"I was in [New Jersey] … I was fortunate enough that they let us use their mansion to host my draft party, and no that wasn't planned. It is various marches or hops that we do, but that one I kind of just freestyled a little bit (laughter)."
On how Peppers would describe himself to Browns fans:
Peppers:"I am a hard worker. I am more competitive than anything. I probably hate losing more than I like winning. I am a tenacious kid, very smart and I am a guy who is going to leave it all out there for the team and for the fans, as well."
On if the goals Garrett sent for himself with ESPN Magazine give him a concern that he may put a target on his back:
Garrett:"Not really. I mean the target is on me, but the target is on everybody else, as well. I have to study my opponent, and I am sure they are keeping their eyes on me, making sure they know what I am doing. But I am coming up. I am going against one of the best ever in (OL) Joe Thomas. I will be well prepared for everybody who is upcoming."
On if Peppers can win over the Buckeye fan base as a Michigan football player:
Peppers:"I am not really worried about the Buckeyes. I am happy to be a member of the Cleveland Browns organization. I am not really into all the little petty stuff. I never was. I am just trying to have the best career I could possibly have and be the best player I could be. I am just focused on the ball game."
On if peppers will do the O-H-I-O like former Michigan and Browns WR Braylon Edwards:
Peppers:"(Laughter). No. (Laughter). Absolutely not."
On if Garrett knew the Browns opening game was against the Steelers or if he knew Steelers QB Ben Roethlisberger's record against the Browns:
On if Garrett knew that would be his first regular season game when drafted and making the comment:
Garrett: "Yes. He is my first target and I have been watching him for a very long time growing up. I finally get to face him and scheme against him and his left tackle and the whole O line. I know what I am going up against."
On managing expectations as the No. 1 pick and not putting too much pressure on himself:
Garrett:"As you've heard, I have some pretty lofty goals for myself. I do not really listen to anyone else's expectations. I keep myself grounded with my family and my friends. They also help me keep my head straight and keep focused. I am not worried about a mistake or a negative comment anybody else wants to make. I have the best I could ever dream of right now. If I could just maintain my focus and keep working hard on the field, it will stay that way."
On the Browns releasing TE Gary Barnidge, who was the team's starting TE last season, and what Njoku will do to make the offense better:
Njoku:"I am going to do the same things I would do even if he was here and that is compete and just work really hard, and it will be alright."
On if Garrett is worried about maintaining focus when he mentions that is something he knows he needs to do:
Garrett:"That is what it is going to take. Any NFL player is going to tell you that there are some distractions off the field. I didn't fall into them in the college level so same thing: Don't worry about all the noise outside of the field. Just worry about what you are doing, why you got here, and why these people brought you to this great franchise. That is because you can play ball."
On why Garrett loves football:
Garrett:"I love to hit. I love to hit, and I love to compete. Those two things combined, that's why me and him (Peppers) are sitting by each other."
On Garrett saying he almost chose to attend Ohio State University because of dinosaurs:
Garrett:"[Ohio State had he] No. 2 paleontology program in the whole nation. If the SEC wasn't so close to home, I might have gone to Ohio State, but since they (Texas A&M) were coming off a really good season with (former Texas A&M and Browns QB) Johnny (Manziel) and they sat me as the cornerstone of their team, I decided to go there."
On the last time Garrett didn't feel like the best player on the field:
Garrett:"It has been awhile (*laughter). *You always have to have that confidence in your mind. You don't want to be arrogant about it, but if you prepare yourself during the offseason and every week before a game with film in your opponent and practicing hard, you should feel prepared. You should feel ready for the guy in front. That is not being a butt about it or arrogant. It just being confident that you can win every rep against the guy you're facing against."
On the photo Garrett tweeted last night as a child:
Garrett: "(Laughter) It is me as a kid. It's funny. I thought I looked like The Success Kid [photo meme] who was on the beach, but it was really me just trying to break a rope that was on my arm (laughter). I thought it was funny, and I threw a little caption on it to cap off the night."
On Garrett's poetry hobby and other special personality traits and if he would recite a poem today:
Garrett: "Maybe another time (laughter). I feel like everyone has their own interests and their own hobbies. Maybe they're just too shy to say it or they just keep to themselves or they keep it between their friends and their family. I have no problem speaking about myself in that manner. I'm not ashamed of the things I like and the things I like to do in my off time. I'm glad to let y'all know that I have other hobbies and other interests that keep me grounded, that keep stress from bothering me or taking away from my game and that when I get away from the game, I am happy to enjoy myself, but when I'm back here and I'm on the field, those things go away and it is time to win."
On how Peppers will be defined in the NFL as he will be listed as a DB:
Peppers: "Whatever Coach Jackson's plan is for me, I'm going to attack it 110 percent. It's definitely going to start with being a returner and being in the defensive backfield. He mentioned some offense to me, as well. We are going to see how that goes."
On if Peppers will be in Jackson's ear asking to get the ball early in his career:
Peppers: "Not really. I'm going to take it day by day. Whatever I am asked to do, I'm going to do it to the best of my ability. I just want to do whatever I can to help this team win ball games."
On Peppers' coverage skills in the secondary and how he would like to improve:
Peppers: "I definitely have to improve in that aspect. I was asked to play in the box more so this year. That is nothing that doesn't come with repetition. I just didn't get a lot of repetitions at it. My man-to-man work came in the games sometimes. Covering a deep third (of the field) or a quarter or a half, that's something that I've done all of my life. I'm not too worried about it. I don't think that the coaching staff was too worried about it either because they know what kind of ball player I am, and they know that I'm going to work to where I need to be."
On Garrett's reaction when the Browns took Peppers:
Garrett: "I was excited. I know he can play ball. I have seen him make many big time plays against great opponents. I know that he can really help us."
On Peppers playing with Garrett and what damage they can inflict:
Peppers: "It's going to be a sight to see (laughter)."
On if Peppers has extra gratitude for the Browns picking him following a dilute urine sample at the draft:
Peppers: "It was a lot of speculation on a dilute sample, which is just that – dilute. They know that I am a high character guy. I don't have any off-the-field issues. I have never failed a drug test in my life and never been arrested. If a dilute sample was my worst hiccup in my whole life, I will take that on the chin. But definitely, definitely a sense of gratitude to them just because they believed in me with all of the negative going on and believing in my play. I'm definitely indebted into being the best person and player I can be. I promised Coach Jackson that I will do so."
On if Njoku's prefers to lay out a blocker or score a TD:
Njoku: "I feel like they are both really important. I have done both. I don't really have a favorite thing, I just love playing. I love competing."
On joining a team that was 1-15 last season:
Peppers: "It is all about stepping stones and stacking little wins. When I went to Michigan, we had a losing record, as well. I like being a part of things that you help from the ground up. That is not really an issue. We know it is going to be a process, and we are all in. We all have bought in. We are all here to do what we have to do to help this team win ball games. That is exactly what we are going to do."
On first impressions of Williams:
Garrett: "(Texas A&M defensive line) Coach Price is the same kind of guy. He's going to get in your face, he's going to scream and he's going to yell, but he has our best interest at heart. Whether it is on the field or off of the field, he is trying to make you a better football player and a better man. I can say the same thing for Gregg Williams. I know he is going to make me into one hell of a football player and a great man."
Peppers: "Definitely piggybacking off of that, (Michigan defensive coordinator) Don Brown, those two kind of share similarities. It is going to be fun playing for another high-energy coach who is going to challenge you and take you to places that you can't take yourself. I'm definitely looking forward to it."
On Njoku's first impression of Hue Jackson:
Njoku: "I took a (pre-draft) 30 visit here and I fell in love with it. I had two teammates that I played with in college that came here, (RB) Duke Johnson and (Jaguars DB) Tracy Howard. Tracy had left recently. I was excited when I came here. I enjoyed it. I enjoyed the visit. It was a really fun time for me. When they called my name, it was even more excited. It is a blessing just to be here."
On Garrett's relationship with former Texas A&M and Browns QB Johnny Manziel and being the next Browns first-round pick from Texas A&M:
Garrett: "I don't know Johnny. I have met him once or twice. I have shaken his hand, but I don't know him that well. He was a year before me. He is an acquaintance and he is an alumni, but other than that, we have no real connection, but that connection that we do have is Texas A&M and I always will root for him because of that. There is just a shade over the Cleveland Browns with Texas A&M, but I can only talk with my play. I can talk with my words and I could say that I am going to do this and that, but practice and games is where you can do all of your talking and get everything out of the way and really challenge people's words."
On Garrett's NFL learning curve and how to shorten it to get to the QB:
Garrett: "The moves are still there. The speed and the talent are still there, but it's just different guys with different levels of talent. That means that you have got to study up. You have got to go against great guys every day and not take any days off. You have got to stay in the film room preparing for the Steelers. They are not here yet and they are months away, but they have been playing for years. These are pros and these are grown men that have been doing this for years who went against rookies and have went against the greats so you have to be on your toes. That means studying and getting tips from the veterans on your team and just making sure that you have everything that you could possibly do done."
On Njoku's offensive learning curve:
Njoku: "I'm 20 years old so I think that I have a bunch of things to learn. Whether it is physical or mental, I just feel like I have a really high ceiling that I can reach. With the help of the coaches and hard work, I feel like I will eventually get there."
On if the Browns stressed the importance of drafting extremely athletic players:
Peppers: "Definitely at this guy right here (Myles Garrett). He is too big to be running the fast (laughter). No, of course they want great athletes – every NFL team wants a great athlete – but it was more so that they wanted high-character guys who really love football. A lot of people say that they love football but have ulterior motives. Some just want the money. We up here for sure love football. I'm pretty sure that we stressed that to them and they saw that. They can tell that in our play that we are passionate about it. I think that was main thing, being high-character guys who love football.
On how close Njoku is with Duke Johnson Jr.:
Njoku: I am pretty close with Duke and Tracy Howard. Tracy visited the Miami campus more often so I would see him more often and he told me that I would love the city if I do end up here. When I told him I was going to visit he told me, I was going to love it here, the people here are great, the fans are very loyal and I will have a great time. It's funny because I had a gut feeling that I was going to be here and I ended up here. I'm blessed, blessed to be here."
Garrett: "I had a feeling, too."
On how long ago Garrett first made contact with Williams:
Garrett: "The first time that we had talked was at dinner in January or February. He was just telling me to stay out of trouble. You have some potential so don't squander it on any little thing that you might think about doing in your off time. He told me to just keep my head on straight and to keep doing big things.
On if Garrett continued speaking with Williams leading into the draft:
Garrett:"He kept checking up on me, making sure I was still working hard, still getting in the weight room, still maintaining my conditioning and just keeping me in check.
On what is was like to talk to Pro Football Hall of Fame RB Jim Brown on his Garrett's draft call and working with former NFL Head Coach Jeff Fisher:
Garrett: "Jim Brown is arguably the greatest football player of all time. Just to hear him speak on the phone was just absolutely amazing. I could not have had my announcement come in a better way and I appreciate him doing that and the Browns doing that for me. Jeff Fisher definitely helped me with my decision to actually compete in the Combine. I was having second thoughts and I wanted to make sure my ankle was absolutely 100 percent and my ankle. I was wavering, and he said, 'This is a big thing. It gets no bigger than this. You are going to be on the largest stage of them all, and if you show out, there will be no doubts. If you know your stuff as well and you are confident in your intelligence and you are confident in your ankle, then you will be just fine.'"
On how bad Garrett's ankle injury was last year:
Garrett: "One of the worst foot injuries I have had, and I fractured a growth plate when I was in high school in a weight lifting accident. That didn't hang on for so long. It was a thing, it healed up and it went right back to working, but that ankle sprain hung on for a while.
On if Garrett was given the opportunity to sit out with the ankle injury:
Garret:"It was. They wanted me to get some rest, but I love my guys to much to sit out and have to watch them without me. I know I wanted to be there and struggling and grinding with them. I wanted to do my best for them because they deserve it. So do the coaches, the fans and everybody else who was part of my time at Texas A&M."
On if Garrett was 75 percent of his normal self with the ankle injury:
Garrett: "Around that. I couldn't get that explosiveness, that step past the offensive tackle like I wanted or that step to the left when I am trying to go to the guard, but I gave what I could."
On if he would look forward to meeting Warren Sapp and telling him his thoughts on Sapp's comments:
Garrett: "No, not at all. He has his own opinion, and maybe he will change it by the end of the year."
On how the Browns can turn the franchise around:
Garrett: "Culture and Attitude. It is changing what people are thinking of having an attitude of everyone having us down and saying that we might be 0-16 or 1-15 and that nothing is going to change, but they brought in playmakers and guys who have that attitude of things will get changed right away. It is that same atmosphere that they have right now, and that is that it is not going to be the same. We are going to change things right away and that we can win and we will win."
On if the first-round selections have talked amongst themselves about being the foundation of the team's turnaround:
Peppers: "We didn't really talk about that. We were more eager to gel with the guys in the locker room and learn from the veterans. They set a standard, and we are going to follow suit and do what we have to do to help win ballgames."
Garrett: "They are the foundation, and we are just added pieces to the puzzle and we are trying to complete the picture so we can start to win games again."
On if meeting LeBron James is something they would like to do:
Garrett: "That would be nice (laughter)."
---
Single Game Ticket Information
2017 single game tickets will go on-sale at a later date. Fill out the form below to be contacted when single game tickets are available.