Of course sack-master extraordinaire Paul Kruger wants to improve on his 11.5 quarterback takedowns from last season – the most the Cleveland Browns have seen from a single player since 2006.
But boosting that total isn't Kruger's main goal for 2015. 
With teammate Barkevious Mingo sitting out portions of OTAs while his surgically repaired shoulder heals, Kruger has been practicing mostly at SAM linebacker in the Browns defense – a position that focuses more on covering tight ends in space and taking up space against the run. The 29-year-old rarely played in that spot last season.
ProFootballFocus.com graded Kruger as the third-highest overall member of the Browns defense in 2014, behind only Karlos Dansby and Tashaun Gipson. But in stopping the run, PFF marked eight Browns players ahead of Kruger and 13 were rated better in pass coverage.
"I think the biggest thing for me is playing a well-rounded game," Kruger told Cleveland Browns Daily on Tuesday after Cleveland's first OTA. "I just want to improve in every way that I can."
Part of the reason Kruger didn't exactly make waves in other facets of his performance as a linebacker was an issue interspersed throughout the entire defense: At times, certain players were trying to do too much. While non-contact practices four months before the season starts seem unexciting to a chunk of fans, it's in these exact situations where Cleveland's defense can simulate and learn how to play together with more unity.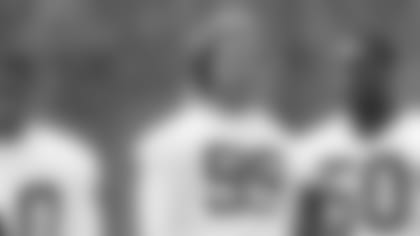 "If you have an assignment on the play, you have to be true to that," Kruger said. "No matter what you see, you have to fulfill your assignment. You have to take care of your business before you go out and try and make a great play.
"It boils down to playing team defense. A guy can miss a tackle here, a guy can miss a tackle there, but there's always something that could've been done by somebody else. We just have to get better as unit, which starts individually."
It's hard for Kruger to believe 2015 will be his seventh season in the league. He's used to this time of year when optimism and positive expectations are overflowing through all 32 NFL buildings.
But now, after general manager Ray Farmer has completely retooled the roster, after coach Mike Pettine established a new culture and after defensive coordinator Jim O'Neil tinkered with the already-proven scheme – the sunny outlook in Berea has substance. 
"From what I've already seen, the dedication level is just jumping off the board. You can feel the energy," Kruger said. "I think we're really coming together as a full unit, where there are leaders at every position.
"There are guys that are extremely anxious to make a mark. There's just a different level of intensity even in the weight room. Everybody is optimistic at this time of year, but at the same time I feel like we have the right group."