Rookie fullback/tight end Malcolm Johnson has stood out thus far in the OTAs for a few reasons but none more noticeable than this: The Browns didn't have a player like him on the roster in 2014.
Standing with an imposing 6-foot-1,231-pound frame, Johnson glides out of the backfield with a burst that has caught some Browns linebackers off guard. Last season, Cleveland rotated between two burlier fullbacks – Ray Agnew (5-foot-9, 247 pounds) and Kiero Small (5-foot-8, 244 pounds). Both were primarily blockers and are no longer on the roster.
Enter a much-needed hybrid in Johnson.  Even in practices where players aren't wearing pads, it's clear what kind of role the Browns hope to see Johnson embrace over time: The one Pro Bowl fullback Marcel Reece has established with the Oakland Raiders.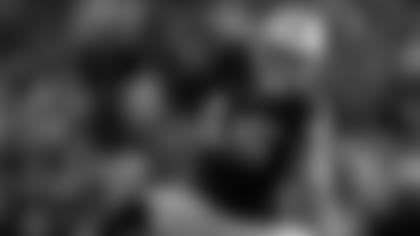 Offensive coordinator John DeFilippo was the quarterbacks coach for two seasons in Oakland, and while he didn't call plays, he was involved with game planning. Getting Reece involved as a pass catcher and even a running back usually led to the Raiders offense moving the chains. Over the last three seasons, Reece has averaged 40 catches, 364 yards and an additional 4.4 yards per carry – proving to be a viable ground-and-pound option on third-and-short and a situational matchup nightmare in coverage.
Johnson was this type of player for Mississippi State.
With Johnson playing mostly at H-Back against SEC defenses, the Bulldogs lined him up everywhere. Johnson displayed he was nimble enough to take shovel passes out of the backfield and a reliable enough of a route runner to be a dangerous threat in the red zone. Johnson caught 10 touchdown passes at Mississippi State.
It took a few seasons for the now 29-year-old Reece to adjust to the NFL. He was undrafted out of Washington, was called a "'tweener" by scouts and was cut by the Miami Dolphins before creating his niche in Oakland. Now, it's hard to name a better hybrid-fullback than Reece in the entire NFL.
But DeFilippo knows how to coach a so-called "'tweener." There will be a learning curve for Johnson as a blocker and excelling at special teams could dictate his playing time with the offense. But with DeFilippo at the helm, it's apparent there will be room in the Browns offense for a player like Johnson.
 "You see him in the backfield. You see him line up as a receiver. You see him as a tight end," DeFilippo said. "The versatility he brings will be something we look forward to."
Johnson is approaching the opportunity with an open mind and positive outlook.
"Since I am learning a new position, it is different," Johnson said. "But I'm going to put my own savvy to it; my own flavor. I don't see myself as a traditional fullback and I know the coaches don't, either."