INDIANAPOLIS — Saquon Barkley would embrace the chance to play for the Browns — owners of the first and fourth overall picks in this year's NFL Draft — and help Cleveland turn itself around following the franchise's first winless season.
"That's awesome. It's something bigger than yourself if you go to a team like that," Barkley said Thursday at the NFL's annual scouting combine. "Obviously they've had some rough years but I think they're a couple of pieces away."
Of course, Barkley, who is considered by some to be the best player in this year's class, could very well be one of those pieces. A three-year starter for the Nittany Lions, Barkley helped lead Penn State back to prominence after a long stretch of mediocrity and, in the process, emerged as one of college football's most electrifying players.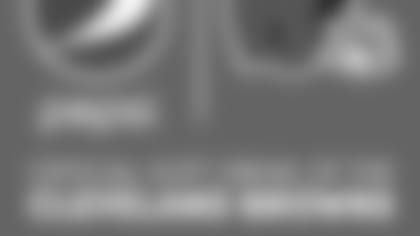 ](https://www.pepsi.com/en-us/)
As the Browns and the league's 31 other teams gather in Indianapolis, they'll train a careful eye on Barkley, whom NFL Network analyst Daniel Jeremiah described as "one of the most dynamic running backs to enter the NFL in the last decade" and "could be an (elite) player at his position very early in his NFL career." Because of that, Barkley is firmly in the conversation to be the No. 1 pick and the Browns — who've made clear their plans to address years of instability at quarterback — will do their due diligence.
"I think it still goes back to our process, what we think is best for our football team and where the player fits and what our needs are. I still think that's part of it. Obviously he's a tremendous football player, he's had a tremendous career," head coach Hue Jackson said. "And again, just like him and every player that's here that we feel is worthy of that pick, that early pick, we're going to dive into him and dig into him and make sure we understand them as well as we can and how would they fit to help us win here at the Cleveland Browns."
Barkley would join a young offense that struggled to move the ball and put points on the board in 2017. But he sees a team that's closer than some people might think.
"They do have a lot of young talent, they have a new offensive coordinator. They are a good team — if you look at the schedule, they've only won one game, but they were in a lot of games," Barkley said. "You want to be part of something like that, it's something bigger than yourself. It's something that you can leave a legacy being part of something like that."
Barkley, who won the 2017 Paul Hornung Award as the nation's most versatile player, finished his final season in State College with 1,271 rushing yards, 632 receiving yards and 21 total touchdowns. What could further make him an intriguing prospect, however, is how he seems drawn to challenging situations.
Barkley's desire to help turn around the Browns stems from a decision to commit to Penn State despite crippling NCAA sanctions and plenty of offers from some of the nation's best programs. He paralleled that moment to the one he's facing now in Indianapolis.
"Somebody mentioned the Browns earlier. You want to be part of something bigger than yourself," he said.
"Even though we weren't able to win a national championship, we were able to get a Big 10 championship and help get that thing turned around. That's bigger than yourself. That's something where you leave a legacy and people are going to talk about it for a long time."
Barkley's ready to do that in Cleveland or for whatever team ultimately drafts him in two months.
"Any team that wants to draft me and is blessing me with the opportunity to play for their franchise is a blessing for me," he said. "You grow up as a little kid wanting to play in the NFL and you have the opportunity to, whether it's the Browns or the Giants or whoever. I'm going to come in there with my head low and ready to work."