Opening statement:
Brown: "Productive Round 2, so to speak, for us. We were able to add (QB DeShone) Kizer and (DL) Larry (Ogunjobi), two players that we liked and are happy to add to our group. Following up on yesterday, which was really productive for us, we were happy to add both guys. We will talk a little bit more about both of them."
On how long Kizer has been on the Browns' radar:
Brown: "For us, we went out and did our diligence on all of the quarterbacks. As you all know, it was reported pretty widely that we went out and had private workouts with DeShone – well both 'DeShone's' (Kizer and Texans QB Deshaun Watson) – and also (Bears QB) Mitch (Trubisky). We felt like we knew him well. We were surprised that he was there and available to us at 52."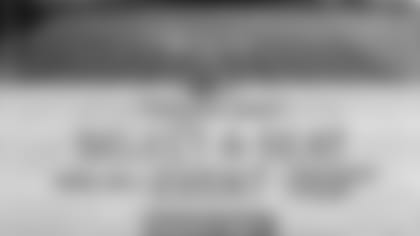 ](http://www.clevelandbrowns.com/news/article-landing/Browns-to-host-Select-A-Seat-event-April-29th/427d2087-a15d-4a65-af3e-cce9be9dfb3f)
On what Jackson likes most about Kizer, understanding Notre Dame's record last year:
Jackson: "Obviously, he has the measurables. He is a big, physical quarterback who can make all of the throws that I think anybody needs to make in the National Football League. He is intelligent. He has the characteristics that we are looking for."
On what the Browns saw from Kizer that made the Browns comfortable picking him, given Notre Dame's record and his inconsistency at times:
Jackson: "I just think through our conversations, through our conversations with us all. I think we did a really good job of making sure we crossed all of the 't's' and dotted all of the 'i's.' We feel very comfortable with his situation at Notre Dame."
On what Jackson learned in Kizer's one-on-one interviews:
Jackson: "That he is very bright and again a guy that works hard and works at it. He understands there are some things that he needed to improve at and is willing to work at it."
On if it is too early to discuss QB competition:
Jackson: "I think it is a little early. I know that you want to get to that point really quickly, but we need to get him here, just like all of them, and give them the opportunity to compete."
On Kizer competing as a potential starter:
Jackson: "I think we are going to give all of our guys an opportunity to compete. I think that is what it is all about. It is not about who is the starter and who is this. Let's let these guys get here and learn our offense, spend time with myself and (quarterbacks) Coach (David) Lee and go out onto the field and let's see how it all turns out."
On why Kizer was selected at No. 52 after he entered the 2016 season as one of the top two QBs by many NFL evaluators:
Berry: "I can't speak for the rest of the league. As Hue mentioned, we spent much time with really all of the quarterback prospects. We got comfortable really with all of the guys who have been drafted so far. With DeShone in particular, we were impressed by his intelligence, impressed by his maturity, his preparation in our meetings and obviously, he has all of the tools to be a successful quarterback in the NFL."
On Kizer's 'drop in production and accuracy' last season at Notre Dame:
Berry: "I would say that we're comfortable with DeShone's profile. Like all quarterbacks entering the NFL, they are going to go through a little bit of a development process. Could he stand to improve consistency? That is going to be the case with all rookie signal-callers in the NFL."
Brown: "One of the things that we found in talking with him was that he had really been self-reflective on some of the things that he wanted to improve upon, and he is already working on those things and has been through the offseason. That is one of the things you want to see in a young quarterback, now and he is obviously very young and now being able to get out into a good situation here and a good quarterback room with teammates but also obviously with David (Lee) and Hue (Jackson)."
On if he is happy that Kizer forwent his last season at Notre Dame to enter the draft, given Notre Dame Head Coach Brian Kelly stated he would benefit from another year in college:
Brown: "Absolutely, yeah, we are happy that he came out."
On if Jackson likes Kizer's ability to move and run or if he will be trained as a pocket passer:
Jackson: "I'm glad that he has that athletic ability, but obviously, we play a lot of different ways. You have to be able to play from the pocket, but you also have to have that mobility to be able to escape defenses as you face them."
On not forcing a QB pick and being surprised that Kizer was available at No. 52 and if the team considered trading up to acquire him:
Brown: "Not going to go into kind of what we planned on doing. We were happy DeShone was there at No. 52. There were several players in consideration for us on Day 2. He was one on our list, and we are happy to be able to land him and bring him here to Cleveland."
On if it felt like the Browns didn't have to force the situation while drafting Kizer:
Brown: "It did not feel like this was a forced situation, where you kind of let the draft come to you and the way we positioned ourselves, it allows us to wait for things to come to us. There will be times where we target a player as we did last night with (TE) David (Njoku), but most of the time we are going to sit back and let the draft come to us."
On Jackson stating the desire for arm talent, processing speed and a guy that could be the face of the franchise in his QB and how he views Kizer in those categories:
Jackson: "I think we feel very comfortable with those things when it relates to him. He has demonstrated those things for us, and I think that is what is really important. He will come here and, as I keep saying, he is going to come here and compete and see if he can do those things while he is here."
On how much better Jackson and Lee can make Kizer once he gets in the building:
Jackson: "I'm not just going to say him, but I think it is our whole room. We try to create an environment for all our guys to be the best versions of themselves. They are all going to have different strengths and weaknesses, and what we are going do is really try to really showcase their strengths and try to improve the weaknesses as much as we can. We feel like we are pretty good quarterback coaches – myself and Coach Lee. We think we can take a player from A to Z, but how soon that will be, what that will be? Until you have a chance to get out on the field with him do you really know."
On how much a QBs' accuracy can be improved when entering the NFL and the factors with it:
Jackson: "I think it is a combination of a lot of things. The receivers play a part in that, too, as well as the quarterback, timing and rhythm and what are you trying to do on every particular play. I think to DeShone's defense a little bit, he played with a lot of the young receivers a year ago, and that is difficult when you are a veteran player and here come a bunch of young guys. At the same time, I think he is being very honest that he knows that something that he needs to work at."
On if drafting three players in the first round allows the Browns to take a QB that may need some time to develop and isn't 'pro ready':
Brown: "I think the reality is it's probably a little bit overblown when people say 'pro-ready'. There are just not a lot of guys, if any, that are coming out of college that are pro ready. We expect when we draft a quarterback we are going to have to develop him. We talked about that a long time, that is Hue's expertise, and Andrew can talk a little more about that and (DL) Larry (Ogunjobi), as well. I do think for us understanding that these guys are going to come and not place too lofty of expectations on him and make sure that he comes in and understands that (QBs) Brock (Osweiler), Cody (Kessler) and Kevin (Hogan) have been in the league longer than he has, but he will be hustling to catch up. It is going to be a development process for him, just as it will I think for anybody who has been drafted today or yesterday."
On if it is exciting as a coach to have multiple young QBs in the room:
Jackson: "Yes, it is. Sashi said it, I think we have made that commitment that we are going to continue to infuse good talent on our football team everywhere but especially at this position so that we can give ourselves the best opportunity to put the best that we can put out there. I think these guys are going to surprise and work hard at it."
On how much different the team is now after drafting Kizer:
Jackson: "I think we are better at that position. I think we have made huge strides over the last several months at that position."
On how important it was to Jackson to have a QB with the prototypical size and arm strength for the AFC North:
Jackson: "It is important. We like to have that all the time, but we know that quarterbacks come in all different shapes and sizes and ability to throw the ball, but this guy has all the measureables that you look for."
On Jackson giving Kizer areas to work on and Kizer saying that he has improved in those areas:
Jackson: "I think the beautiful part of it was he was able to take that instruction and improve. I think we saw that in our workout. That was outstanding. He is very coachable. He wants to work at it, and I think that is what it is going to take. We will find out how good this guy can be over time."
On the timing of the release of TE Gary Barnidge:
Brown: "We want to be respectful of all our vets, and we had obviously drafted a guy in the first round. We want him to get out there on the field, and we wanted to give Gary an opportunity as soon as possible to catch on with another team where he would have an opportunity to make a roster and get into a situation where he felt more comfortable continuing his career."
On DL Larry Ogunjobi:
Berry: "We were very excited about Larry. He has really only been playing football since his sophomore year of high school. We thought he was one of the more physically gifted defensive tackles in the entire draft – strong, explosive and athletic. Coming into the fall, he obviously dominated Conference USA and improved every year during his career. He was exceptional during the Senior Bowl week and responded well to the uptick in competition. Really just the time that we spent scouting him going to work him out this spring, we felt very comfortable with his overall skillset and his fit in our defense."
On the importance of having multiple picks in early rounds and how the Browns feel about the results from the first two days:
Brown: "Good. Good. We feel good about really all five picks. For us, it was about trying to improve the roster and getting young guys who are competitive and that embody the values that we cherish in terms of the competitiveness and the toughness. We have some big, athletic men who are going to be joining our roster and are going to help us play a more physical brand of football. We are excited. We really are. It has been a productive two days, and we have one more to go."
On if the Browns' defensive selections indicate the team may have a 4-3 base defense:
Jackson: "It could. Gregg does a lot of different things with his scheme. Obviously, I think our base may be that, but we will do a lot of multiple things out of that all of the sudden depending on the skillset of our players. We will have the flexibility to do a little bit of it all."
On stating the Browns would not force it at QB and what is the right context for how fans should view the team's selection of Kizer:
Brown: "Hue said it, and he has really kind of said what we have said from the start, which is that we value the position. We feel like there is a guy who fell to us in the draft at the right value for us to draft him. He is a guy who has played really good football. Various people and I have talked about how he obviously did not have the year that he wanted to have last year and he recognizes that, but he has tremendous skills to work with, rare skills and traits to work with. We like that. We like the opportunity to add that, and by the way, we have four more players we added on the first two days. That is a great combination for us to continue investing in that position, which we will do until we get it settled."
---
Single Game Ticket Information
2017 single game tickets will go on-sale at a later date. Fill out the form below to be contacted when single game tickets are available.