INDIANAPOLIS – When Shane Carden arrived at East Carolina University, his teammates and coaches nicknamed him Brett Favre.
Everything about Carden screamed No.4 from the Green Bay Packers: His boyish southern drawl, his rugged Wrangler look and his desperado quarterbacking style on the football field.
"The things he was able to do outside the pocket, I've been told sometimes the plays that I make are similar to him," Carden said with a wide smile.
Carden was among a handful of lesser known quarterbacks who spoke to the media Wednesday — one day before projected first-rounders Marcus Mariota and Jameis Winston take the stage in the Lucas Oil Stadium media room — and he impressed with a mixture of quick wit, intelligence and a confidence in his who he is as a quarterback.
While starting for the Pirates for the past three seasons, the 6-foot-2, 220-pounder shattered David Garrard's school records and was the face of a program that grew tremendously in the national spotlight. Once a sputtering team, East Carolina climbed all the way up to No. 14 in the national rankings with Carden leading a shotgun-spread passing attack.
Longtime media members covering ECU pegged Carden as the best player in school history – over running backs Earnest Byner and Chris Johnson and quarterbacks Garrard and Jeff Blake – and not because of all of the numbers.
Carden's been knocked for his throwing delivery and athleticism but he has unteachable traits -- pocket poise, guts to take a big hit and an arm to thread the needle in the middle of the field.
"I think I can compete with any of the guys here," he said.
Carden's been working hand-in-hand with former Florida State Heisman-winning quarterback Chris Weinke at IMG academy in Florida. Weinke is fast becoming a guru in the pre-draft process. He most recently mentored Cam Newton, Russell Wilson and Ryan Tannehill, refining their games and prepping the players for the combine.
Weinke's biggest focus? Shedding the label that Carden is simply a system quarterback who piled up inflated stats with the Pirates. Carden knows he'll have to answer that question to every NFL team that talks to him, and he's ready for it.
"For whatever reason, ECU's offense has been thought of as some single-read offense – which is very far from the truth," Carden said. "Certain play-actions are quick reads. But there are a lot of progression reads. There's safety reads. There's a lot of different things in talking with these coaches, I've realized kind of the complexity of the offense.
"As far as [being a system quarterback], you can't worry about all that. I feel confident in the offense I ran. I was given the offense and I mastered the offense. I can't help that it wasn't pro-style. There's plenty of who were in pro-style offenses that have had trouble in the NFL."
Along with the work he's done with Weinke, Carden implemented something outside of the box. Carden spent a chunk of time with ECU's baseball strength coach in the weight room, in hopes of further improving his arm strength. Carden dove into workout routines that the Pirates' starting pitchers went through and the quarterback said the techniques helped.
By the time Carden left East Carolina, he had shed the Favre label and earned a new nickname: Captain Carden. His personality won over media members Wednesday. Intertwine his track record for making big-time throws at ECU and it's easy to believe a team will gobble up the quarterback as a long-term project in the draft's later rounds.   
Other quarterback diamonds in the rough
| | | | | | |
| --- | --- | --- | --- | --- | --- |
| | | | | | |
| | | | Excellent instincts, can make big plays | | |
| | | | | | |
| | | | | | |
| | | | | Marginal statistical production | |
athleticism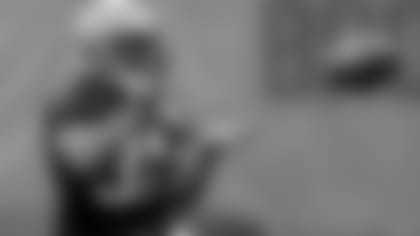 news
Browns ready to ride hot hand with deep group of RBs
Cleveland RBs coach likes depth, diversity at the position