On the first day of Cleveland Browns open training camp, one player kept hearing his name chanted in roaring ovations from the loud and proud Browns faithful.
Unpredictably, it happened to be rookie running back Terrance West.
In a one-on-one passing drill going against linebackers, West put on a clinic, so much so, that coach Mike Pettine wondered for a second whether if that was actually his running back.
"I was a little shocked with Terrance today," Pettine said, pleasantly surprised. "I had to double check my roster card to make sure I was looking at the right number. He did some nice things in the one-on-one period. That's always a bonus when you have a running back that's not just one-dimensional."
West's first razzle-dazzle play was against linebacker Craig Robertson. The Towson product put on a shimmy shake with his feet, essentially crossing up Robertson like a point guard would in basketball. The juke move freed up West, who hauled in the catch from Duke Johnson Jr. and moved his burly frame up the field.
Minutes later West beat another linebacker in deep coverage, only this time the reception was of the one-handed variety – and it went for a tippy-toe touchdown in the corner of the end zone.
There was a mini-alarm Wednesday, when West was placed on the non-injury football list – usually meaning a player failed the conditioning test. West and Pettine both said there was a misunderstanding, and that the running back "crushed" the re-test.
While Pettine liked what he saw in West, he also reiterated that fellow running back Ben Tate is much more of an advanced pass blocker than the rookie. Chris Ogbonnaya also did some nice things today at the running back position.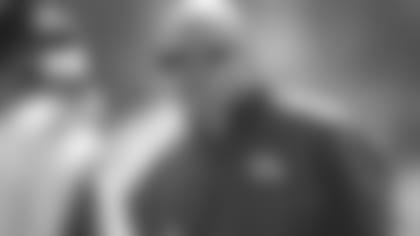 West was content with his first day of training camp open to the public. Including pass blocking, he says that he's learning to read defensive formations and putting in extra study hours with his iPad.
"No one has a spot right now on this roster," said West. "That's why it's called camp. You come out here and earn a spot. I can come out here, work hard, and make it hard for the coaches to see who will start on Sunday.
Team owner Jimmy Haslam hit the nail on the head in his observation of Pettine on Saturday."I think he's smart like we thought," said Haslam. "He's tough. He's articulate. I don't think he gets rattled easily. He's tough. I think the players relate well to him, and I think we have a good environment here. We're really excited about Mike. He's a quality guy."
A group of fans we interacted with coined a nickname for the Browns' head coach: Stone Cold Mike Pettine. It's not that he looks a little like the wrestler Stone Cold Steve Austin. It's the business-like demeanor on his face. It's his honesty in press conferences. It's the actual belief that he's the right man to turn the Browns into perennial winners.
"We have a lot of work to do," said Pettine, about the message he sent his players in the team meeting. "We're building a foundation. We don't want it to be a foundation that we can look in a practice or two, or a preseason game or two. We want to build it the right way, and build it so we can have long term, sustained success."
Pettine confirmed defensive lineman Billy Winn is out with a hamstring injury. The seriousness is not yet known. Also guard John Greco was limited. Joel Bitonio and Garrett Gilkey saw most of the first team reps in his place.
On Saturday at quarterback, The Browns are still in what Pettine called, "day one of installation." The play calls during camp are straight out of chapter one of the iPad.
Which means both Brian Hoyer and Johnny Manziel did some things to like and some things to not. There was no clear cut winner on day one.
"I'm not out there trying to make spectacular plays, magical plays, because that's not what you do in a game," said Hoyer. "I try and treat every practice like it's a game. Going against our defense you never know what you 're going to get and you just try to wait it out and take what they give you."
Hoyer's chemistry with tight end Jordan Cameron is one thing Browns fans should gloat about. The two are on the same page on all three kinds of routes – short, intermediate and deep. Hoyer lobbed a perfectly thrown ball to Cameron for a 30-yard touchdown in a one-on-one drill.
Two things stood out Saturday about Manziel. Let's start with where he needs to improve first. During an 11-on-11 drill, Manziel broke the huddle and was still talking with wide receiver Anthony Armstrong. There was a miscommunication on the call, and Armstrong was forced to call timeout. This is expected from a rookie. Manziel knows communication in the huddle must improve.
It's Manziel's legs, and knowing when to use them, that already seem advanced. The moment he cuts hard on a bootleg, linebackers become a little unsure of where they need to be. Several of Manziel's positive plays from Saturday happened outside of the pocket, without him actually scrambling.
"For me, every rep, every little special teams drill that we do, going over to the side working with the quarterbacks, every little thing I have to take extremely serious and really pay attention," said Manziel. "Whether I'm in or (Browns QBs) Brian's (Hoyer) in or Tyler (Thigpen) or Connor (Shaw), whenever someone else is in I have to take a mental rep and continue to not just look at my plays on a scripted sheet, but look at the entirety of it and see what I could potentially get when we're in the season. Taking mental reps, what I would do here, looking at the entire defense and trying to pick up even when I'm not in is something that I think I could take advantage of."