If you ask Cleveland Browns safety Tashaun Gipson about his breakout 2013 season, you'll be surprised on what you hear.
"Dropped interceptions, missed tackles or just missed assignments," Gipson said. "I just want to be a better football player."
Behind stalwarts Josh Gordon, Jordan Cameron, Joe Thomas and Joe Haden, the argument can be made that Gipson falls next on the line in terms of his value to the Browns. While strong safety T.J. Ward roamed around the tackle box, Gipson was trusted to play deep centerfield, a daunting task for most second-year players.
Gipson picked off five passes, tying him for fifth in the league. It was the most interceptions from a Browns player since 2010. A statistic that goes unnoticed is interception return yards. Gipson added 143 of those, and touchdown. Jay Cutler, Matthew Stafford and Ben Roethlisberger all tested Gipson down the field, and they all wound up paying.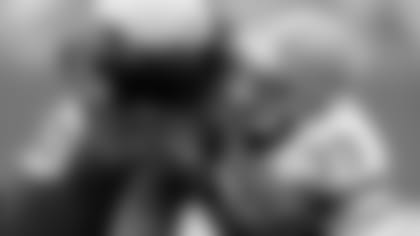 Just to refresh your memory, 2013 was Gipson's first year as a starter. Teams around the league pegged the undrafted free agent safety out of Wyoming as a special teams guy – and not much more.
"I went from being an afterthought, truly nobody, to teams knowing about you and scheming about your game." said Gipson.
"But my work isn't done. I left a lot of plays out there. I want to show that I'm a better player than I was last year. Each year in this league you want to put your best foot forward and show that you're better than your last game tape."
The Browns are giddy to be back on the football field, but Gipson knows the spring months are more-so about homework than agility drills. As much as players are gym-rats, they need to also realize the playbook
"If you want to play fast physical and relentless, like we have the guys capable of doing, we've got to learn the defense first and foremost," Gipson said.
Gipson has one last thing to check off on his offseason to-do list: go to Cedar Point amusement park. He says the adrenaline you get from the rides are always worth the two hour drive.
So far Gipson's career with the Cleveland Browns has been the exact opposite of a roller coaster. There have been no flips or turns, and no ups and downs. The 23-year-old is on a straight beeline to becoming a prominent safety in the NFL.