The Cleveland Browns 'Hats Off to Our Heroes' program is a signature program that focuses on recognizing and honoring local heroes for their service during each home football game. Recently, during the Browns vs. Jets match up, the United States Coast Guard were seated in the Honor Row as an extension of the Browns commitment and dedication to supporting our military.  
At the conclusion of the 1st quarter, Browns fans without cue stood off their seats and removed their hats to show their appreciation for those members of the US Coast Guard and the many others who have served or currently serving our country. This special moment during the game is one that many fans look forward to and symbolically provides a moment to honor those who serve. Coast Guard members seated in the honor row were recognized while their names scrolled on the scoreboard as part of the recognition piece.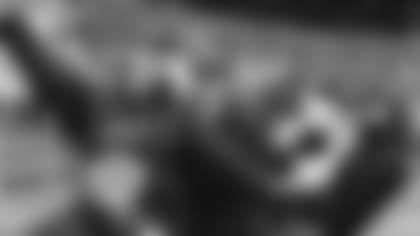 After Sundays game, Petty Officer Lauren Laughlin spoke "We all had a really great time!" Petty Officer Lauren Laughlin went on to say that "to be a service member in a crowd that big and to have people standing and cheering for you is really heartwarming. To be thanked and have people shaking your hands makes me come to work on Monday morning and like to continue to serve." To make this moment even better, a husband and wife, by the names of OSC Clayton Wissmann and Lt. Jessica Wissmann were able to share this moment and be honored in the Honor Row together. Along with this, honorees Aux Ken Stroebel and Lt. Matt Stroebel, father and son duo were also honored in the Hats Off to Our Heroes program together. Petty Officer Lauren Laughlin mentioned that son Lt. Matt Stroebel said that "he was happy to be able to go to a game and to be honored in uniform while sitting next to his dad."
A huge thank you to the United States Coast Guard for serving our country and for joining the Browns to be a part of our Hats Off to Our Heroes program! Your commitment and service to our country does not go unnoticed and the Browns want you to know this!
The Browns are committed to supporting the military year round through the First and Ten movement. Learn more about the Browns Hats Off to Our Heroes program here! Have you taken the Browns First and Ten pledge? Join the movement today.
Follow @BrownsGiveBack on Twitter and Instagram
*About Cleveland Browns First and Ten movement:
The Browns are dedicated to #give10 through the team's First and Ten initiative. Launched in June 2014, the Cleveland Browns First and Ten campaign is the team's community program, established to inspire fans to volunteer in and help their communities throughout the world by volunteering for 10 hours each year. Since its inception, Browns fans have committed to volunteering more than 1 million hours to impact their communities by pledging to #give10. Through First and Ten, the Browns are the only NFL club to promote a long-term volunteering program that unifies the team and its entire fan base, with the goal of impacting every individual's city across the globe, as well as the franchise's local community. All Browns fans are encouraged to join the volunteering effort by signing the First and Ten pledge on the team's website and by sharing their stories with #give10.