Travis Benjamin had the best day a wide receiver has had in practice in a quite a while, at least to the naked eye. The third-year pro from Miami hauled in a 40-yarder from Johnny Manziel and several other routes across the middle of the field from Hoyer.
Benjamin tore his ACL last year right before Halloween on a complete non-contact injury. Nine months later, he's made a near full recovery. He even suggested he feels faster with a surgically repaired knee. But Benjamin needs to prove he can be a reliable force in the passing attack.
"I think he's progressing well, and it took some time," said Pettine of Benjamin. "I think it helped him when we gave him some days off here and there, and we'll continue with that until we feel that he's back up to 100 percent. I think that's critical. It's hard to have a roster spot just for a guy and all he does is return. He has to be able to function on one side of the ball."
One of Benjamin's best friends on the team, Charles Johnson, is trying to mix his name in the fold too. The pair of receivers put in dozens of hours of work with Brian Hoyer in the spring, working together in the weight room as well as throwing the football. After a long day of lifting weights one day, Johnson and Benjamin decided to flip-flop jersey numbers. The two were inseparable during their respective rehabs.
Johnson was the last player off the practice field Wednesday after working for an extra half an hour on the jugs machine. Johnson feels the pressure of the wide receiver competition, in a good way.
"I've been out here trying to catch up to other guys because I've been out for a long time, trying to rehab and get back to where I need to be," said Johnson. "I need to catch up. I'm not at where I want to be at. I've got to put in that extra work."
Barkevious Mingo's candid remarks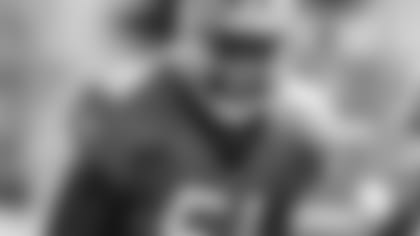 There is such thing as a rookie wall. The 24/7 grind of professional football hits some young players harder than others. Mingo admitted to being at that point last year where the season was bogging him down.
"Looking back on it, it's a terrible thing," said Mingo. "It's just a grind. You really don't want to wake up. 'We have to go practice, we have to do this, we have to do that.' At the end of the day you realize why you started playing this game: it's fun. Moving past that, it's a childhood game."
As a rookie, Mingo said he walked into every play thinking he was supposed to be the one making a sack, a tackle for a loss or an interception. He relied heavily on his athleticism and less on studying and anticipation. As the season wore on, the LSU product figured out to just focus on his role and the chips will fall into place.
"Realizing that is what calmed me down," said Mingo. "It made me speed up my thinking and play faster on the field."
Mingo also told reporters about his bond with Armonty Bryant – our pick as the standout defensive player last week in Detroit. When the two were drafted last season, they bonded as roommates in the team hotel and have carried their friendship off the field. They often go out to eat or catch a movie. Now they are lining up to each other quite a bit together as pass rushers.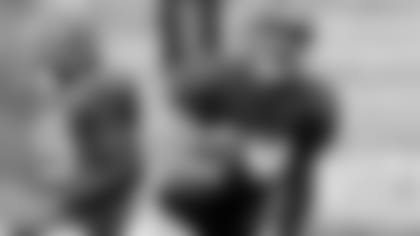 As the last portions of the offense continue to be installed during training camp, there was a big thing that stood out to us on Wednesday. It was only a 7-on-7 drill, but tight end Jordan Cameron lined up all the way as an outside wide receiver. The mammoth target beat Buster Skrine on a quick slant, hauled in the Hoyer pass and used his frame to box out the smaller cornerback. Cameron easily scored a touchdown
It's worth pondering if/when the Browns will consider broadening Cameron's role as a receiver. He may be a little smaller than Jimmy Graham, but he's every bit as athletic. Cameron isn't going to burn defensive backs 35-yards down the field. But on a third-and-seven, why not stick him at receiver? For shorter routes, his size makes it much harder for cornerbacks to affect the pass as opposed to bulky linebackers. Cameron can be more than a receiver in goal line situations and nobody on offense has been as reliable as him in training camp.  
So how much will the starters play this Monday night against the Redskins?
"It will be in the neighborhood of a half," said Mike Pettine. "The hard part for us is we have a quick turnaround to St. Louis, so we have to give some consideration to – I don't know if we can go with the traditional model of half and then the three quarters with it being such a quick turnaround. That'll be brought up, as well."
The Browns will have to trim their roster down from 89 players to 75 shortly after leaving Washington.