Ryan Switzer parked his car and prayed. He'd never felt more sick. He'd never felt more helpless.
It was a Saturday morning in March and Switzer's life — his purpose — had been turned upside down. Hours earlier, the fifth-year Browns wide receiver found his 9-month old baby boy, Christian, asleep in a pool of his own blood. He grabbed Christian out of the bed and looked into his eyes. They were weak, barely able to stay open. His clothes were soaked in blood.
"At that point," Switzer said, "I didn't know if he'd bled out."
Switzer and his wife, Gabie, quickly gathered their belongings, transferred Christian to his car seat and raced to a nearby hospital in Charlotte, where they reside in the offseason. All three, it turned out, were COVID-19 positive and Switzer, nursing a temperature of 103 and dealing with pretty much all of the symptoms, was in the throes of the worst of it.
His own health and well-being were the last thing on his mind as they got closer and closer to the hospital, but it would be the reason why he found himself alone in the car just a few moments later. Only Gabie would be permitted to accompany Christian as doctors scrambled to figure out what was causing the bleeding.
Switzer took the car to a parking lot across the street and shut off the ignition — all alone in his darkest hour. Watching the minutes drag by only made things worse, so he opened his phone and pulled up Twitter — something millions of people are doing right now to pass the time. Switzer, though, had something to say. He wanted his prayer circle to be as wide-ranging as possible, and there was no bigger way to do it than to let the 125,000+ who follow him know the terror he was currently experiencing.
"I was literally across from the hospital in a parking lot sitting there not knowing if my son was alive," Switzer said. "I'm a believer in prayer and I've got a big social media platform. I thought the only thing I could do was let as many people as possible know what we were going through."
It was the first of a handful of updates from a traumatic month that Switzer says he's still processing. What matters most: Christian is as healthy and bubbly as ever and knocking out milestone after milestone as he crosses into his 13th month of life. The root cause of Christian's bleeding was discovered and fixed and Switzer was able to be in Cleveland with the Browns throughout the team's voluntary offseason program.
The month-long ordeal is largely in the past, but it won't ever be forgotten.
"My approach to life is different," Switzer said. "This whole thing put everything that matters into perspective. It puts every little thing into perspective."
The nightmare, of course, didn't end after Switzer's first tweet.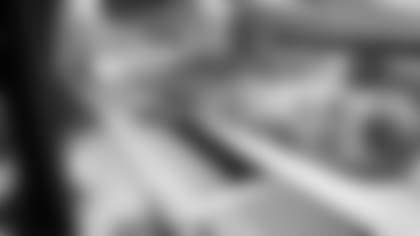 Christian's hemoglobin levels were alarmingly low when he arrived at the hospital that night. He required three emergency blood transfusions before doctors could start troubleshooting the cause. A round of X-Rays, MRIs and other scans led into what would be Christian's first surgery but minimal answers followed. He was stable and feeling better, but there were no clear answers for why it happened or whether it would happen again.
Three days later, Christian was cleared to leave the hospital. What followed were 10 surreal, sleepless, anxiety-filled days.
"It was not the same," Switzer said. "All eyes were on him 24-7. We were so paranoid it was going to happen again."
Ten days later — exactly two weeks after the first incident — Christian was back in the hospital after another bleeding episode. It wasn't as bad as the previous times, but it was alarming, nonetheless.
This wasn't normal. It had to stop.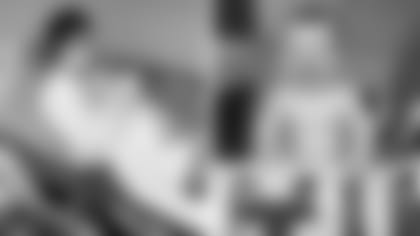 Upon reflection, Switzer called this moment the darkest period of the entire ordeal.
"As a father, I felt like I was letting my son down. I felt like I was letting my wife down. There was just no answer," Switzer said. "We were sitting in a hospital room with no answer. That was the frustrating part. The whole time we were there …"
Switzer paused, collected himself and continued.
"I just remember the whole time feeling so guilty because all I wanted to do was to take all of the needles and cords and everything that was on him, I wanted to put it on myself. I wanted him to sit where I was sitting and I wanted to lay in that hospital bed. That's all I could keep thinking. I felt hopeless. I wasn't doing my job of being his protector. I wasn't able to help him."
The help Christian desperately needed was just around the corner.
After more examinations, more scans and even fewer answers about the root cause of the issue, Switzer began to stretch the boundaries to see what it would take to help Christian. He talked with medical experts from coast to coast and consulted with doctors at the hospital in Charlotte to see where else he could try to find the answers that eluded them.
Christian was stable and feeling better, just like the last time, but Switzer and Gabie were determined they wouldn't go back to their normal lives until this mystery was solved. It was determined the best course of action would be a trip to Boston, where Christian would be admitted to Boston Children's Hospital.
As Switzer went through the process and lined up everything for Christian's transfer, it became clear to him just how confounding his son's case was to those who have seen just about everything. That understandably created even more anxiety but it also added fuel toward the drive to find the answers.
"I felt like we were finally in the right place," Switzer said. "I felt a sense of hope when we got up there."
Christian underwent an initial scan when he arrived at the hospital and was brought back the following morning for a second round. Christian bled during both of them, but the doctors found what they needed. They were ready to operate right then and there even though that wasn't what they envisioned.
The day was long, but the wait was worth it. Switzer knew good news was coming when he saw the doctor enter the waiting room.
"That's one of the moments I'll never forget," Switzer said. "You could tell even under his mask, I don't know how you can tell but I could, but when he told us he was going to make a full recovery, I was sitting in the waiting room crying."
Weeks of uncertainty, anxiety and sleepless nights culminated in that moment. Switzer described it like the burst of a water balloon, a quick pop followed by a long-awaited shower of relief.
"We were so high strung and intense and then we found out he was going to make a full recovery," Switzer said. "It felt like our stress meter and our muscles just kind of went limp." 
Christian, meanwhile, had the opposite response. He was ready to tackle the world the moment he awoke from surgery.
His energy was up and the color was back in his skin. When the family returned to Charlotte, Christian seemingly gained more and more steam, excitement and vigor by the hour — "a completely different baby," Switzer said.
Upon reflection with the doctors, it was clear Christian was losing blood and, therefore, energy from birth, and the warning signs were easier to see with the gift of hindsight. Some nights, Christian would sleep from 7 p.m. to well past 9 a.m., and he was, overall, a "pretty lethargic baby," Switzer said. Anytime the topic of sleep came up, however, Switzer and Gabie would often hear how lucky they were to have a child who slept so well through the night.
Christian, though, was quietly struggling. Now, he's living loudly.
"When we brought him home, sure enough he wasn't sleeping as much," Switzer said. "I'll be up. I don't care."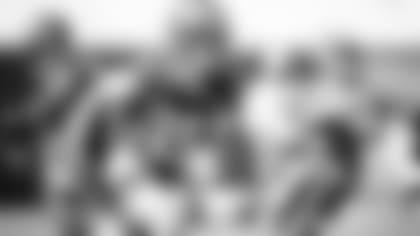 From the very beginning, when he was sick as a dog and trapped in his car, Switzer embraced his social media community in a way he never did before. 
He provided frequent updates all along the way, even when the answers he needed seemed so far away. Just four days before Christian was readmitted to the hospital in Charlotte, Switzer posted a video in which he thanked everyone who had sent along well-wishes and kept Christian in their thoughts. On April 22, a little more than a month after the family returned to Charlotte, Switzer posted his final Christian medical update, which could only be described as "some wonderful, wonderful news." Christian's post-operation blood tests revealed he was fully recovered, healthy and ready to move past what had been holding him back for the first year of his life. 
To be blunt, Twitter and Instagram haven't always been the friendliest places for a high-profile football player like Switzer. That dates back to his days at the University of North Carolina and all throughout an NFL career that's taken him to Dallas, Oakland, Pittsburgh and now Cleveland. More often than not, those who took the time to relay a message to him weren't doing it for a positive reason.
This experience was so much different.
"It was actually the most positive interaction I've ever had on social media," Switzer said. "I was surprised so many people pulled together and prayed for our boy. I was so overwhelmed."
The support turned tangible in a hurry.
Shortly after Switzer posted his first message, he received offers of help from seemingly everyone he'd crossed paths with in his NFL journey. That group included Steelers minority owner Thomas Tull, who let Switzer and his family use his private jet to expedite the trip from Charlotte to Boston, and former Patriots WR Julian Edelman, who helped ensure a warm welcome when they arrived in Boston.
"Football didn't matter at that point," Switzer said. "It was about people and a child."
With the Browns, Switzer stayed in close contact with assistant athletic trainer Pat Rock and Senior Vice President, Player Health & Development Joe Sheehan and regularly fielded calls, well-wishes and gifts from Dee and Jimmy Haslam, Kevin Stefanski, Andrew Berry and his teammates. 
"It was just humanity at its finest," Switzer said. "It was people being there for each other. In a business that's very harsh at times, it was just perfect to know these people cared about my son and legit wanted to help. 
"Being back here for OTAs, it's real the whole time. Everyone still asks, how's Christian doing, how's your son? I just feel the love for him. I'm very thankful we were a part of the Browns organization while we were going through this. They were there during a time we needed them most."
This will be Switzer's fifth NFL training camp and his first with the Browns, who signed him to the practice squad in October 2020 but were never able to activate him during what was an injury-marred season for the speedy wide receiver and return man. He'll be fighting for a roster spot on a team that has big goals for the 2021 season, and it won't be easy. He'll just be doing it with a renewed and refreshed perspective after enduring what no parent ever wants to fathom. 
"Christian was fighting for his life. For me, you're telling me I've got to go fight for a job? What's the comparison?" Switzer said. "I get to go out and play football. There's no fear. There's no anticipation. There's just the do. I know I can make Christian proud and I can make my wife proud by just fighting.
"My approach is simple. I want to do nothing more in my life than make my son proud."