Joe Thomas got a laugh out of all the text messages, well wishes and congratulations he received in the days leading up to Sunday's game against the Ravens.
Thomas was four snaps away from 10,000 in a row, but the Browns veteran left tackle felt as if everyone knew something he didn't.
"It was a really weird feeling because I hadn't gotten it yet. But it was such a foregone conclusion by everybody that, 'Oh, well, you're going to get 10,000,'" Thomas said. "So it was almost -- not putting the cart before the horse -- but in my mind, I just didn't want anybody to talk about it or think about it because I'm not a superstitious person, but it was funny talking about it as if it already happened all week." [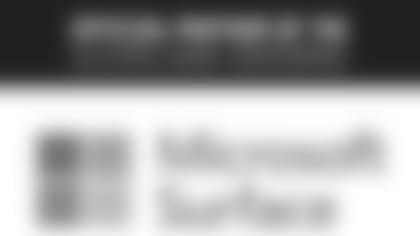 Well, it happened, and Thomas officially entered rarified air in Sunday's first quarter after Cleveland's fourth offensive play. In Thomas' eyes, the 9-yard run by Isaiah Crowell put some dimmers on the spotlight that brought a lot more attention his way than he typically receives.
"As linemen, we're happy to not be the center of attention," Thomas said. "Our careers are usually, when you're the center of attention, in the spotlight, it's usually a bad thing. So it's been a difficult week having that spotlight on me and I'm happy to move beyond that and hopefully sneak into the shadows for the rest of the season."
Thomas was on the field when even more love poured his way through social media. Cavs star LeBron James was among the numerous sports celebrities who shouted out Thomas for an unprecedented milestone that some have labeled as the football equivalent of Cal Ripken's streak in baseball.
"Certainly it's very humbling when you see people who are sort of idols of yours, a guy like LeBron, just mentioning my name and mentioning it with a tweet. That's really special," Thomas said. "I don't think it will sink in during my career, but when it's all said and done, this is definitely something that I think I'll be able to be very proud of and be able to put my hat on and have that as a big accomplishment."
Kevin Hogan prepared all week as if he were the starter and he responded the way he expected when he was summoned in Sunday's second quarter.
Playing in relief of DeShone Kizer, who was sidelined for more than a quarter with a migraine, Hogan led the Browns to their only touchdown on his first series of the game. His longest pass as an NFL quarterback, a 49-yarder to Seth DeValve, set up a 23-yard touchdown pass to rookie David Njoku.
"That's what I'm supposed to do," Hogan said. "If I get in there and make plays, move the offense as well as I can [and] be efficient. I would have loved to have a couple plays there. But, I felt good about how I was seeing everything out there as far as what they were showing, blitzes and coverage. There is a lot I can take from it and be better next week."
Hogan was up and down after the touchdown pass. His interception near the end of the first half was costly, as it helped set up a Baltimore touchdown that put Cleveland in a 14-point hole. He finished 5-of-11 for 118 yards.
"I think Kevin did some good things, and that's what we expect," Browns coach Hue Jackson said. "Obviously, if we don't turn the ball over right before the half, I would have liked to have seen where we would have been. Whether we score or not, just don't turn the ball over and give them an opportunity to come back and score. And that's what we did. I thought he handled himself well. He was ready to go. He made some plays with his arm and plays with his legs; and that's what I expect from that man."
The Browns saw a starter on each side of the ball go down with an injury in Sunday's loss.
Wide receiver Corey Coleman suffered an injured hand during the second half. He'll undergo further tests in the near future and his status will be re-evaluated in the coming days. Coleman, who caught one pass for 9 yards, missed six games with a hand injury last season.
Linebacker Jamie Collins Sr. suffered a concussion during the second half. He'll be placed in the NFL's concussion protocol and monitored on a daily basis.