QB Cody Kessler -- One week after taking a hard hit to his chest/ribs, Kessler was back on the field and playing at a high level despite taking constant hits and pressure from Tennessee's defensive line throughout Sunday's game. [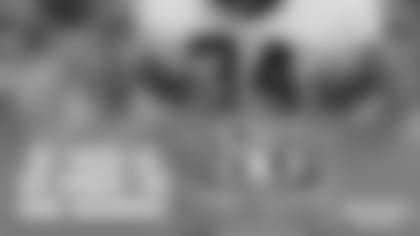 ](http://www.clevelandbrowns.com/news/article-5/1986-Browns-team-to-be-honored-1030/5bf3d609-a3ab-49e9-8ffe-2736870a4f04)
The Browns ultimately came up short against the Titans, but Kessler was front and center for why the game went down to the wire. With Cleveland trailing by 15 midway through the fourth quarter, Kessler led the Browns on back-to-back touchdown drives. It was a nice finish to a game that started out so promising for Kessler and the Browns offense, which drove 94 yards for a score late in the second quarter to make it a one-point game at halftime. Kessler finished with 336 passing yards, the second-most ever by a Browns rookie.
WR Terrelle Pryor Sr. -- His role has almost exclusively focused on wide receiver ever since his first dual-threat game, but Pryor continues to make an impact and tax defenses, even when they load up resources to stop him. He caught two touchdowns and led the Browns with nine receptions and 75 yards. His first touchdown catch required a major effort, as he leapt over two Titans defenders to snag Kessler's pass. He currently ranks eighth in the AFC in receiving yards (413) and is tied for fourth with three touchdown catches.
DL Danny Shelton -- Perhaps no one has shown more improvement from 2015 to 2016 on Cleveland's roster than Shelton, who was once again a force in the middle of the defensive line. He collected the first sack of his career and was one of the main reasons why the Titans struggled to run the ball with star running back DeMarco Murray, who needed 21 carries to get his 65 yards. According to Pro Football Focus, Shelton leads the NFL in run stop percentage and has the most run stops of anyone.
RB/PR Duke Johnson Jr. -- Johnson and the Browns running game didn't have a day to remember Sunday but the second-year back made an impact in multiple other ways. His 28-yard reception in the fourth quarter paved the way for Cleveland's final touchdown. He finished with 56 yards on four receptions, third-most of anyone on the team. Johnson also looked solid at punt returner, a position that was in flux throughout September. Johnson had a long return nullified by a penalty but the play served as another example why the Browns are confident he can make an impact beyond the backfield.
LB Emmanuel Ogbah -- Shelton wasn't the only player to pick up his first career sack, as Ogbah nabbed one, too, in Sunday's second half. It was a good sign of progress for the second-round rookie, who has been a mainstay on Cleveland's defense and has received a large dose of snaps through the first six weeks. As Browns defensive coordinator Ray Horton said last week, the team needs more from all of its pass rushers in the coming weeks, and that means more of what Ogbah was able to do Sunday.