Friday marks the last time in 2015 we'll have to write the word OTA. The Cleveland Browns will wrap up their 10th and final practice before veteran's minicamp begins Tuesday.
1)     *Andy Lee can absolutely boom the football*
Cleveland's new punter hit the 70-yard marker on at least two of his punts, prompting return men to jokingly complain if he could take some heat off the ball. Coach Mike Pettine said it was a tough choice to let Spencer Lanning go, but the Browns believe Lee provides an upgrade to the punting position.
"It was difficult, but that's life in the NFL," Pettine said. "We felt we had an opportunity to make our team better. There was a Pro Bowl punter out there and we felt the cost associated was obviously very manageable."
Lee now joins kickers Carey Spear and Travis Coons and long snapper Charley Hughlett in a completely revamped special teams unit. Read this emotional piece from Andrew Gribble on why Lee is wearing No. 8 this season.
2)      Pettine has talked to the team about the Cavs' mental toughness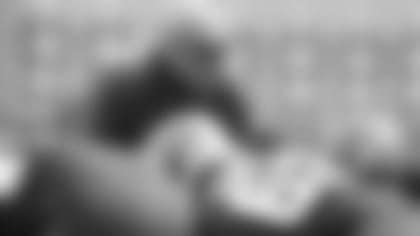 ---
---
Cleveland's head coach was in attendance for Game 3 of the NBA Finals and thought it was worth bringing up how the Cavs are having success in a team meeting. The "next man up" mantra and team-wide unity are primary reasons Cleveland has bested Golden State, he said.
"We talk about mental toughness all the time and here you've got a team down some players," Pettine said. "The Big 3 is the Big 1. At this point of the year, it comes down to finding a way. It's been clear that they've been the physically tougher team and the mentally tougher team."
"They are willing each other to victory," wide receiver Andrew Hawkins said. "They are relying on guys they weren't planning on relying on in the beginning. And they are stepping up. That's what football is."
3)     *Duke Johnson and Isaiah Crowell lined up in the backfield together *
With quarterback Josh McCown standing tall in the shotgun formation, Johnson and Crowell flanked both of his sides. McCown sent Crowell in motion to the far right as a receiver, causing confusion among Cleveland's linebackers. McCown hiked the ball, faked a pass toward Crowell and, instead, dumped it off on a screen play to Johnson, who bolted into the end zone for a touchdown.
The play design was complex, but the combination of Crowell and Johnson on the field together was more intriguing. Crowell's powerful stride and bruising style combined with Johnson's shiftiness and burst is a mixture that screams potential. 
4)     *Chris Kirksey's potential keeps growing*
---
*Linebackers coach Chuck Driesbach recently sat down and met with some of the Browns scouts. Their question for the longtime assistant coach was simple: What are you looking for in a linebacker?
"I told them to clone Chris Kirksey," Driesbach said.
We recently wrote about Kirksey making a big leap in his second NFL season. And it's worth noting his 81 tackles as a rookie were 21 more than Karlos Dansby posted in his first professional season back in 2004 with the Arizona Cardinals. Driesbach said Cleveland's defensive system uses a bunch of packages that will take Kirksey off the field, but the coach thinks the 22-year-old is already a 16-game a-year, bona fide NFL starter.
5)     *Thursday's standout players*
Dylan Wynn – The undrafted defensive lineman blew up several running plays in the 11-on-11 setting. If performances like this translate to the preseason, it's going to make general manager Ray Farmer's job to trim down the roster excruciating.
Taylor Gabriel – The most impressive play during the OTA happened during a two-on-two, wide receiver vs. defensive back drill. K'Waun Williams was glued to Gabriel for 20 yards down the field until he cut his post route toward the sideline, where he gave himself a few inches of separation. Manziel fired a rocket pass into the outstretched arms of Gabriel, drawing oohs and ahhs from the media in attendance.
Craig Robertson – A lighter moment occurred during an 11-on-11, when Robertson yelled to the football operations interns, "Turn the music louder!" The interns obliged, cranking up the up-tempo house music as Robertson penetrated the line of scrimmage and tapped running back Glenn Winston for a loss. Always lively, Robertson screamed with delight as he jogged off the field.