Robert Griffin III returned to practice Wednesday after the Browns designated him for return from injured reserve. "You always appreciate things when they're taken away from you so I thought I enjoyed practice and I've always loved being out there with my teammates and getting better before I was hurt," Griffin said in the locker room, "and now that I get a chance to get back out there, I just continue to appreciate it more and more." [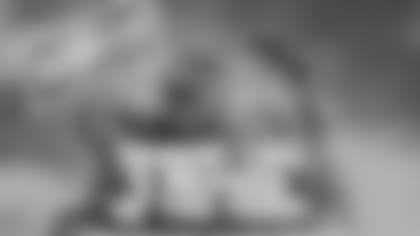 ](http://bit.ly/TUFbrowns2016)​Griffin, who hasn't played since breaking a bone in his shoulder in the season opener, was cleared for non-contact activity last week. The Browns now have 21 days to activate Griffin or he must remain on the injured reserve list for the remainder of the season.
Griffin, whom head coach Hue Jackson said must clear another hurdle before he's cleared to play, said that test is "just going to be a matter of if my bone's healed or not. There's nothing I can really control, just don't do anything stupid and go out and practice, do what they ask me to do and let god take care of the rest."
With Cody Kessler in the concussion protocol, Josh McCown is set to start against the Giants this weekend. His backup? The Browns will turn to rookie Kevin Hogan, who saw significant action in a loss to the Bengals in which he combined for more than 200 yards.
"(He) has obviously played and played in games for us. He has been here, knows our system, knows what we are trying to accomplish," Jackson said. "He has done a good job when he has played."
3.  Facing a 'tremendous front'
Jackson said he's confident the Browns, who gave up eight sacks to the Steelers, will regroup before facing a talented Giants defensive line that includes All-Pro selections in Jason Paul-Pierre and Olivier Vernon.
"This is a week-to-week business, you know. It does not mean that just because we had eight [sacks] last week does it mean we are supposed to have eight this week. You know, we are playing a tremendous front," he said. "They have good players. But at the same time, I have said this before, we play good players every week and every week we have not given up eight sacks. So, we can fix the things that hurt us last week – that is that we are doing this week in practice and that is my expectation that we will do. And our guys will go and play their tails off.
"And our goal is to not let our quarterback get hit. You know, and it is a unit issue. It is not just one person. It is everybody. Everybody has to do their job and do it to the best of their ability to give us an opportunity."
Jackson said safeties Derrick Kindred and Ed Reynolds II will have the chance to keep starting after both received nods against Pittsburgh.
"We're always looking for guys to take something over because if they can, then you have the chance to play a little bit better instead of interchanging guys," Jackson said, adding defensive coordinator Ray Horton "has done a good job of, again, if guys are not getting it done, let's try somebody else. And at some point in time, what we are hoping is it would settle itself out and that is what it is kind of starting to do."
Speaking of the secondary, several key members of Cleveland's secondary in Jamar Taylor (groin), Tramon Williams Sr. (knee) and Reynolds (knee) were limited in Wednesday's practice. Williams missed last week's game against the Steelers while Taylor and Reynolds played significant snaps. On the flipside, Pro Bowl cornerback Joe Haden, who has dealt with a lingering groin injury, was a full participant.