Besides Joe Thomas, nobody has been on the current Browns roster longer than Ahtyba Rubin, who will play in his 100th game Sunday against the Carolina Panthers. For some perspective, longtime linebacker D'Qwell Jackson didn't even reach the 100-game landmark.
"It's a huge achievement," Rubin said. "I really just try to stay grinding, showing all the new coaches I deserve to be here."
Since the Browns returned in 1999, here are the players who have appeared in the most games. 
During the 2014 season, Rubin's fought through a nasty ankle injury, which sidelined him for two games. The Browns feared their workhorse in the middle might need season-ending surgery.
Instead, Rubin vowed his team needed him. The unit already had a dwindling amount of ammunition with Armonty Bryant, Phil Taylor and John Hughes watching games in street clothes. Rubin wanted to wait it out and hope his ankle improved. It did, and the veteran helped spur November wins against Cincinnati and Atlanta by plugging running holes.
"He's battled through some things that maybe some other guys would have shut it down," coach Mike Pettine said. "To me, it speaks to the kind of competitor that he is."
Said Rubin: "When you respect a coach and your teammates, you'll do anything – cut off your arm and legs to go out and play."
Along with Thomas, it's hard to find anyone as gritty as Rubin. Enduring numerous scheme changes on defense, the 325-pounder gracefully toggled back-and-forth between both a defensive end and a nose tackle. Rubin saw career-best years in 2010 and 2011, posting 80 tackles in each season and earning a lucrative contract.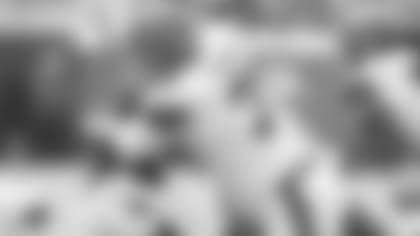 Rightfully, teammates adore Rubin.
Practice squad lineman Jacobbi McDaniel said Rubin put in extra time to teach the rookie how to predict which formations would produce passing plays and which would likely signal runs.
Rubin is one of the first players in the building every morning and one of the last to leave. He takes practice seriously. Defensive coordinator Jim O'Neil calls him a "technician" because he continually refines his craft of beating offensive linemen in different ways.
"If you predict any player to reach an accolade like 100 games, you would say Ahtyba Rubin," Hughes said. "I push myself to try and be where he's at."
Said defensive end Billy Winn: "He's one of those silent leaders on this team that just does things the right way – all the time."
This is by far the best season Rubin has seen in his time in Cleveland. Seven wins is a big deal; nine would be even bigger. It took seven seasons, but Rubin can truly see the seeds of growth from the 2014 campaign.
"Rome wasn't built in a day," Rubin said. "We are getting recognition. We are heading in the right direction. You can feel it in the stadium, too. The Dawg Pound was the loudest I ever heard it this year. Keep on barking because there's a lot of character on this team to build upon."