Before they left the building Monday evening, Cleveland Browns players were assigned film cut-ups to watch and were told to come back ready for an intense practice Wednesday.
Veteran offensive lineman Joe Thomas additionally addressed the entire team in the locker room Sunday, telling them, "Let's get dialed in. Let's not let one loss turn into two."
On Tuesday, a few players sprinkled in to grab lunch and a quick workout, but a majority of the heavy lifting going on at the Browns facility is on the second floor, where the coaching staff is bunkered down scheming up the game plan.
On a Tuesday appearance with Cleveland Browns Daily, coach Mike Pettine gave fantastic insight on what exactly the coaching staff is up to during these late-night cramming sessions.
"The running game starts to get formulated," Pettine said. "You want to make sure your play-actions match your runs. We'll hit the pause button and the runs will get presented and then we'll decide what passes will we run off of those. So it all marries up.
"(Offensive coordinator John DeFilippo) does a good job of organizing the day of getting everyone together, pulling ideas and then he'll kind of shut himself in his office and filter everything down, eliminate and clean a few things up. Then he'll push out the practice scripts for everybody for tomorrow's practice, and off we go."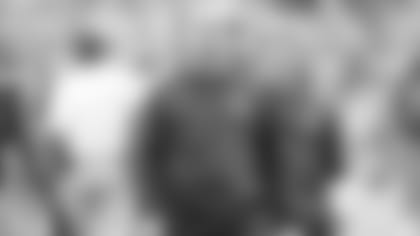 FirstEnergy Stadium won't necessarily be a part of DeFilippo's play calling this Sunday, but the Browns fully understand the lakeside gridiron can flip the momentum of the game.
In an unpredictable turn of events, the New Orleans Saints were rattled Week 2 last season in Cleveland when the Browns defense came out on fire – and so did the Dawg Pound. Paul Kruger clobbered quarterback Drew Brees on a strip sack and Tashaun Gipson took an interception 39 yards to the house. With more than a nudge from their loyal crowd, the Browns seized the momentum early and carried the torch to the finish line in a 26-24 statement win. 
"Go back to last year's home opener and look at how instrumental the crowd was against the Saints," Pettine said. "We had them early in the game on a third down and they were backed up. You could feel the ground moving under meet – the stadium was that loud.
"I tell the players all the time – we control the volume. If we want the crowd behind us, we've got to play well. The better we play, the louder they'll be. You can overwhelm an opponent with just that wave of emotion."