Barkevious Mingo doesn't want any sympathy for how his 2014 season unfolded.
The promising outside linebacker was not only tasked with adjusting to a new type of role within Mike Pettine's defense, but he also played with essentially one healthy arm from start to finish. The pain in his shoulder grew with each passing week, but Mingo missed just one game.
Within days of the season finale, Mingo underwent surgery. The procedure limited Mingo from any 11-on-11 football activities during the offseason workout program, but it'll allow him to be 100 percent when training camp opens in late July.
"What makes football players good is their ability to make plays from a disadvantaged position," Mingo said. "We have to go out every day and try to make plays and do your best to make those plays. I wouldn't say I was super disadvantaged."
Mingo will carry the same mindset into his third season with the Browns. He knows all the time on the sidelines during the spring took away any advantage he had going into what's expected to be the most competitive Browns training camp in years.
"This whole team is built on competition," Mingo said. "We've got to compete for our jobs day in and day out. We have to compete on the field on game days to win the game. I wouldn't expect anything less. I'm ready as soon as I can get out there."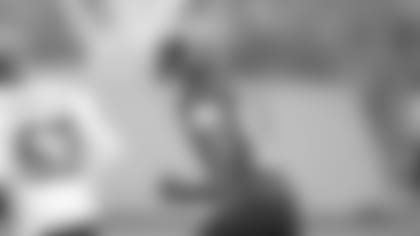 Mingo is "by far" the Browns' best outside linebacker in coverage, defensive coordinator Jim O'Neil said. That makes him a likely fixture in the team's substitute packages for third downs and other likely passing downs.
The emergence of Scott Solomon, who took most of the snaps with the first-team defense throughout OTAs and mini-camp, and the arrival of Nate Orchard, a second-round pick who will make a similar transition as Mingo did from a 4-3 defensive end to a 3-4 outside linebacker, will force Mingo to compete for regular work on first and second downs. Armonty Bryant, who was a defensive end last year before he went down with a season-ending injury, is anticipated to work with the outside linebackers at training camp, too.
How productive Mingo can be at setting the edge against the run and getting to the quarterback on pass plays will determine where he fits best on a defense that has high hopes for 2015.
"Guys are going to have to earn it," O'Neil said. "We don't care where you were drafted, when you were drafted, how much you're getting paid; the best 11 guys and the guys who earn their roles are the guys who are going to play.
"No one is guaranteed anything on the defense. Joe Haden knows that, Donte Whitner knows that and Karlos Dansby knows that. You're going to have to earn playing time. We're deep in every position group. Mingo is going to have to come back ready to go, and he's going to have to earn it."
For Mingo, getting back to those types of outside linebacker responsibilities is music to his ears. At LSU, he lived in opponents' backfields and got the better of SEC offensive tackles who are now in the NFL. He's considered one of the most dominant pass rushers in LSU history and finished his three-year career with 29 tackles for loss and 15 sacks.
Piling up those kinds of numbers as an edge rusher is what Mingo "loves to do," and he'd love to see his NFL statistics follow suit, but he's ready to embrace whatever role he absorbs within the Browns' system.
"My role was altered when these coaches came and I accepted that role," Mingo said. "It's about being unselfish and doing what's asked of us to help the team win games."