Big Brothers Big Sisters of Greater Cleveland held its 13th annual Bowl for Kids' Sake* Sports Bowl* Thursday at Parma Freeway Lanes. The fun-filled event provided Browns staff the opportunity to get involved with First and Ten and #give10 back to their community, alongside colleagues from the Cleveland Indians. The Browns challenged its staff to join in with fans globally to #give10 hours of volunteer service during the year to help the community. Support for this event was the perfect fit because it created awareness for BBBS and volunteers. Teams were seen wearing their individual uniforms along with the signature orange #give10 wristbands.
Through a little healthy competition, both the Browns' and Indians' staff bowled and raised funds to help kids in Cuyahoga County reach their full potential. Chomps and Slider both made an appearance to roll the ceremonial first bowl to get the party started. Prizes were given away throughout the night for best/worst bowler, best uniform and the team with the highest score. The Browns reclaimed the title and took home the pin for yet another year, but it wasn't just about bowling.
This signature event raises funds and awareness for Big Brothers Big Sisters (BBBS), an organization providing guidance and support to children in Northeast Ohio through one-to-one youth mentoring services. One big and one little are paired and encouraged to spend at least four hours a month together. Two matches (Brian and Trevell Jordan; Justin and Curtis Davis) came to the Bowl for Kids' Sake event.
Brian and Trevell have been matched since September and their bond is undeniable. Big Brother Brian doesn't have family in Ohio so he considers Little Brother Trevell as an extension of his own. Brian got involved in Big Brothers Big Sisters because he had a mentor in his life who was a Big Brother which interested him to become one. The match talks at least five times a week, which is something Trevell looks forward to the most. "We can have fun and talk, I feel like he is really one of my big brothers."
"I'm so fortunate to be in the position that I'm in, to hang out with [Trevell]," Brian said. "I learn so much from him."
The other match: Big Brother Justin and Little Brother Curtis, were ready to roll immediately after they walked in. Although the two don't bowl often, they were knocking pins down left and right. Justin and Curtis hang out every other weekend and although they are good bowlers they prefer to be outside. "I like jumping in the lake," Curtis said.
"We've worked on a lot of things," Justin said. "Our goal this summer is to teach Curtis how to swim." The big brother who says it's all about commitment has been with his little for one year!
The mission of Big Brothers Big Sisters of Greater Cleveland is to provide children facing adversity with strong and enduring relationships that change their lives for the better, forever. The organization that serves nearly 500 children annually in Cuyahoga County, pairs children with positive role models like Brian and Justin. If you would like to learn more about becoming a Big or Little visit http://www.bbbs.org.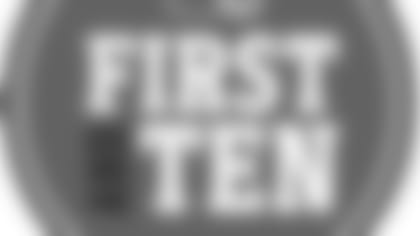 The community outreach platform First and Ten is a global initiative inspiring Browns fans to volunteer for 10 hours over the course of one year to help their communities. You can sign up to take the pledge on our website.