In terms of YouTube sensations, no other Cleveland Browns player can touch kicker Carey Spear.
Spear committed to Vanderbilt University out of Mayfield High School in Ohio not even knowing where the school was.
"I knew it was in the SEC and I knew it was a good academic school," Spear said.
Four years later, he left arguably the greatest kicking legacy in school history, nailing 35-of-43 kicks during his junior and senior years. Booting footballs between the uprights isn't the only thing Spear has proven he can do on the field.
You see, Spear prides himself on being a football player. Spear was a team captain for three straight seasons, even as a specialist. He lifts weights with intensity with a focus on his core. He drinks the fancy protein smoothies.
And he delivers hits like a strong safety.
At the end of every season, Vanderbilt special teams coach Charles Bankins makes a film cut-up of the hardest hits of the season. And for three straight years, Spear finished with the No. 1 hit.
"The entire stadium would go crazy," Bankins said. "The energy our team would get from his hits was tangible. Carey has this swag about him. Kickers like Carey are not a dime a dozen."
The YouTube clips validate Bankins' words. So do the nearly 600,000 combined clicks.
Spear swears he never played linebacker in high school.
"I just put my head down and run, man," he said.
And while he downplays the nastiness of each hit, calling himself lucky, his competitive edge still seeps out a bit in the casual interview setting.
"When I get out there, I'm obviously smaller than most guys," said Spear of his compact 5-foot-10, 190-pound frame, "But I'll be prepared when that moment comes."
The next moment Spear will have to tackle is winning the Browns' kicking battle, where he's currently competing on a daily basis against fellow first-year player Travis Coons. Spear spent the duration of the 2014 training camp period with the Philadelphia Eagles, competing with both veteran Alex Henery and rookie Cody Parkey. He ultimately lost out to Parkey, who went on to make the Pro Bowl.
Spear didn't kick himself for losing the competition in Philadelphia. Instead of feeling discouraged, Spear felt more motivated knowing he was that close to an NFL roster. He moved back to Nashville and kicked every single day while also working as a corporate staffing recruiter at IQTalent partners.
"I had to pay the bills somehow," said Spear, who added he actually enjoyed the job.
A couple days after Christmas, his phone rang. General manager Ray Farmer invited him for a workout with special teams coordinator Chris Tabor. Hours later, Spear became a Brown.
A Mayfield High School graduate, Spear is now in a unique place – living at home with his parents. He can count on a nutritious dinner each evening from his mom.
"She's a great cook," Spear said.
Each morning, he makes the 40-minute trek from the East side to Berea, though he's mostly a homebody, Spear's proximity means he sometimes kicks it with his high school buddies, where they play trivia at a Mayfield sports bar or hit the golf course.
"They still can't believe this is happening with the Browns," Spear said.
He swears it's a coincidence, but somehow Spear ended up with No. 4, which was worn by prolific Cleveland kicker Phil Dawson. Growing up, Spear spent every Sunday on his couch with his family woofing for their Browns. Spear said he developed his own kicking style through years of practice, but Dawson was an often mythical sphere of influence in his eyes.
"I respect that guy like crazy. You don't see many cities cheer on a kicker the way Cleveland cheered on Phil," said Spear. "I know firsthand how much he means to the city. He was a role model for me growing up, watching him kick on Sundays.
"The best thing about Phil from what I can see on tape is his consistency. If it was a big kick in the snow or a short kick in the beginning of the season, Phil was always the same guy. That's what fans, players and coaches could expect out of him."
Most longtime residents of Mayfield aren't surprised to see Spear closing in on the grand stage of kicking. Spear was always a gifted athlete excelling at center-mid on the high school soccer team. His leg was never a question either, especially when he nailed an uproarious 61-yarder against Solon in the Ohio high school playoffs, tying a state record.
"It was honestly unlike any other kick I've had before," said Spear.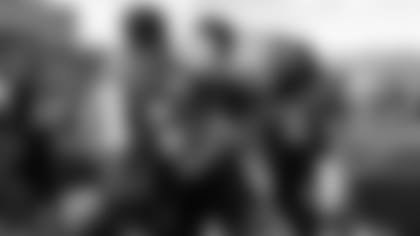 There's more to like about Spear than just what he does on the football field.
Spear was named the SEC's lone representative to the 2013 Allstate AFCA Good Works Team for spending his college spring breaks in Mexico, Peru and Haiti helping construct orphanages with his bare hands. The kicker also mentored adults in Nashville who struggled with substance abuse problems.
"My wife is in love with him," Bankins said half-seriously. "She cried during his last game at Vandy.
"I've never heard of a kicker being a three-time team captain. It just says a lot about his heart and who he is as a person."
The hard part still lies ahead for Spear. He'll have to stave off Coons and any other veteran kicker Farmer could add to the roster in the coming months.
But if Spear does prevail, don't be surprised to see his YouTube legend grow in his hometown Cleveland Browns jersey.