Name:Jenny PrechtelHometown:Medina, OH
How they give back:Each week the Browns recognize a High School Game of the Week. While at this matchup, our team is always looking for someone who is going out of their way to #give10 and make their community a better place. We've seen players, staff, parents and cheer teams give back to at their schools in more ways than one. Jenny is a parent who volunteers her time to help raise funds for the Buckeye Band at her daughter's high school. She got involved with the band boosters a year ago when her daughter was just a sophomore flute and piccolo player. It makes her happy to do what she can to help her daughter and the band as a whole succeed. Just last week the group qualified for the state finals. The band heads to the finals in Brunswick on November 7th. Good luck and great job Jenny! Way to #give10 and help your band get to the finals.
Name:Harry ClarkHometown:North Carolina
How they give back: Harry is an Ohio native who has lived in North Carolina for the last 10 years. He's bled orange and brown since the age of five. He has taken his fandom to another level by pledging to #give10 and help his community. Most recently, he participated in the Dawg Pound Dash 5K run in memory of a fellow fallen Dawg. Any time he can help out his beloved state of Ohio and the great City of Cleveland he deems it a privilege not a right. He appreciates the Cleveland Browns First and Ten movement because it gives him a chance to give back. Harry also feels united with the team, who help with local charities, hospitals and other volunteering efforts, which makes it a win/win for the communities and those who serve them as well. He takes pride in being a Buckeye and he doesn't turn down a chance to lend a hand, run for a cause, or just be there to support those in need. Awesome Harry, Keep it up! #give10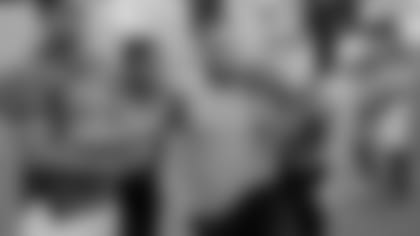 Name:Ibraheim CampbellHometown:Philadelphia, PA
How they give back: Ibraheim Campbell, a Defensive back for the Cleveland Browns is new to the Cleveland Area, but he has already had a tremendous impact on the Dawg Pound. One way Ibraheim has helped his community is by volunteering his time on his day off at the Browns Youth Football Camps, helping inner-city youth develop fundamental football skills. He also signed up to #give10 and build a playground through the NFL-wide initiative "Hometown Huddle." The project benefited more than 300 students who didn't have a safe place to play in Central Cleveland. He also visited patients at University Hospitals' Seidman Cancer Center in support of Breast Cancer Awareness Month. Ibraheim has a desire to make his community a better place, and his efforts show him putting those words into action. Thanks for jumping right in to #give10 Ibraheim, because of your dedication and initiative, you are our First and Ten Dawg of the Week!
Name:Nick FrascoHometown:Youngstown, Ohio
How they give back: Nicholas a member of the Browns Staff pledged to #give10 and then hit the ground running, volunteering with his co-workers whenever he can.  He and his co-workers volunteered with his group at Hope Lodge this spring. Hope Lodge offers cancer patients a free place to stay while receiving treatment. Their team purchased, prepared and served a meal to patients and family members. He also helped his wife plan and execute a benefit for the March of Dimes which funds lifesaving research and works to end premature birth. They hosted an event for 200 of their friends, family and many others that raised over $5,000 for March of Dimes. Great Job Nicholas, way to #give10 like a Brown.
Name:Christine GarrettHometown:Willoughby, OH
How they give back: Christine chooses to #give10 and focus on health and wellness of others in her community. She believes in keeping those in her community informed and safe. She is a CPR teacher. Teaching resuscitation techniques is something she enjoys and takes pride in because without this knowledge, seconds could result in a dramatic life or death situation. She believes it is important for others to know how to save a life. She is also a photographer who volunteers her time to make memories for others. Recently she volunteered with University Hospitals to provide photos of breast cancer survivors and their families during the Breast Cancer Awareness game on October 18th. Christine is willing to volunteer her time and help survivors because she is a survivor herself celebrating six months! Wow, Christine! That is so inspiring, we applaud your courage and selflessness.
Are you signed up to #give10? Share how you are helping the community and pledge to be part of First and Ten on ClevelandBrowns.com/community. All you have to do is give 10 hours, help your community. We want to hear your stories so follow @BrownsGiveBack on Twitter and Instagram for the latest community updates and be sure to use #give10.