Name:Notre Dame Cathedral Latin Football Team   Hometown:Chardon, OHHow they give back: Each week the Browns support one high school matchup in the High School Game of the Week program. This week we caught up with some players, trainers and cheerleaders from Notre Dame Cathedral Latin who #give10. The team is all about togetherness and loyalty. Recently the team united in honor of a teammate's dad who had become very ill. The team played every down for the dad, dedicating the game entirely to show their support. The team is also planning a fundraiser to help remedy the medical costs. As for now, they hope that their performance on the field will make their team patriarch smile and make the ultimate recovery. NDCL cheer also is committed to making a difference in their community. Each season they set up a bake sale to raise funds for the patients at St. Jude hospital. Later in the year they proceed to visit children undergoing treatment at St. Jude's hospital. The team takes great pride in these initiatives and say they are looking for more opportunities to #give10. That's fantastic! We love to see teens getting involved and giving back to their community.* *
Name:Pete DemicheleHometown:Chardon, OHHow they give back: The Athletic trainer for NDCL volunteers his time and resources as a part of First and Ten. He trains athletes in a youth football league in Chardon to #give10. Teams in the local league play Saturday mornings in the fall. He serves as the trainer on duty in whatever capacity needed. The trainer uses his expertise to benefit the youth that play in the league. He says that safety is his upmost responsibility. He is most interested in teaching the players the importance of using and wearing the right equipment, proper hydration mechanisms and appropriate stretching techniques.  He says he loves to use his skills from his professional life to help out the next generation and #give10. Awesome Pete! Safety is the first priority when it comes to sports. Thanks for your dedication to your community.
Name:Peter Feisthamel  Hometown:Indianapolis, IN
How they give back: Peter is a Browns fan who has been very active in his community. He spends most of his time giving back through the Rotary Club of Cuyahoga Falls. They put on many community events. One of his favorites is 'Heroes Day'. Peter and his group also serve at the Women's Shelter in Akron. He gets joy from giving to others and making his community a better place. Through different programs and service projects, Peter can #give10 and much more! Recently they've made flower arrangements to adorn the walkway at the Cuyahoga Falls Library, held pancake breakfasts to support Relay for Life and speech contests for academic scholarships totaling a combined $6,000. The Rotary Club also set up open swim sessions for children who may not have access to a pool otherwise. Lastly, the group hosts and sends transfer students all over the world. This year they received a student from Croatia and sent one to Chile. Wow, talk about #give10 and helping your community! You all go above and beyond, Peter, Bravo.* *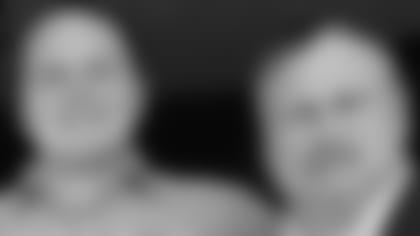 Name:Nick ValentineHometown:Springfield, IL
How they give back: Nick dedicates his time to #give10 all throughout the year, so much so that his family, teachers and friends have taken notice. His dad says that from a very young age Nick has always shown compassion by caring for others. In Elementary school, he would volunteer to meet and spend time with the elderly at the nursing home his grandmother worked at.  When he was in eighth grade, Nick tutored and mentored his peers at the local Boys & Girls Club.  As a high school athlete, he spends his summers helping with Special Olympics in Central Illinois.  Helping these athletes become the best they can be, he realized that winning was not the only thing in life. It provided him with an entirely different outlook on life—to be grateful for what you have and to celebrate others and their successes. That's the spirit Nick! Keep it up there are always more ways that you can #give10, help your community and even inspire others.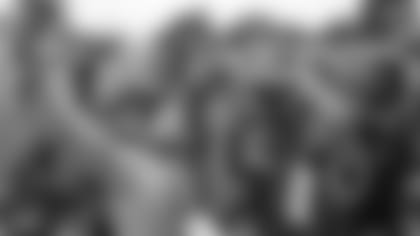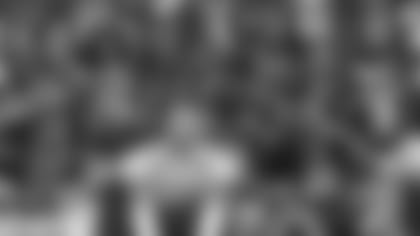 Name:Joe Haden Hometown:Fort Washington, MD
How they give back: Joe Haden is constantly looking for ways to #give10 and help his community. In 2015 alone, Joe has given back to the community and the fans at large through surprise visits, golf outings and more. For the Cleveland Browns Foundation Golf Outing, Haden helped raise money for the programs the foundation supports including Cleveland Metropolitan School District, the adapted football league and many other learning initiatives. Joe was also conducted a surprise visit to football teams this month at Dwayne Browder field on the East side of Cleveland. He shared inspiring words and even helped coach players in during practice. Haden will also be returning this year as the honorary Co-Chair for Taste of the Browns. This event helps contribute to providing hundreds of thousands of meals to those in need around the Northeast Ohio area.
Are you signed up to #give10? Share how you are helping the community and pledge to be part of First and Ten on ClevelandBrowns.com/community. All you have to do is give 10 hours, help your community. We want to hear your stories so follow @BrownsGiveBack on Twitter and Instagram for the latest community updates and be sure to use #give10.