Name:Holy Name High SchoolHometown:Parma Heights, OH
How they give back: While visiting a different community each week for the Cleveland Browns High School Game of the Week, an overwhelming amount of selfless individuals help make high school football so special in their respected communities. This week Mindy Ring and her friend Amy Nicholas, #give10 and volunteer in the concession stands at each Green Wave football game. They both take tremendous pride in connecting with members in the community and by giving back. Doing something so simple as selling various snacks and treats can make such a difference when the students or teams need equipment or more funds to travel. The parents at Holy Name High School also get involved in more ways than one. One Green Wave team dad discussed how he is dedicated to his community by helping out the football team whenever needed to #give10. He sometimes supplies after game snacks but is always there to support his son and team rain or shine. Wow Holy Name, way to go above and beyond with the school spirit and give back to your students in the way that you do!* *
Name:Alex MackHometown:Santa Barbara, CalifHow they give back: Alex Mack a Center for the Browns has been selected as the Top Dawg of the Week, for his selfless commitment to #give10 and help communities of people near and far. Alex has been known to travel overseas to visit active duty members of the military who are deployed and fighting for our country in enemy territory. Alex has brought many a smile to the troops who are Browns fans currently displaced from their family and their hometown team. By visiting our nation's armed forces with the USO, Alex has raised morale and become a fan favorite for many in uniform. Alex is also very active in the Greater Cleveland area during the season. He contributed to the 2015 Browns Foundation Radiothon through an experience package that gives a lucky fan and their friends the chance to indulge in an all-you-can-eat challenge with Alex and his teammates.
Name:Frank StamsHometown:Akron, Ohio
How they give back: Frank Stams, a Cleveland Browns Alumni is a part of The First Tee of Akron, a national organization which serves youth. The education-based program teaches life skills to the youth of Summit County. To #give10, they teach the youth values such as honesty, respect and more. The students range from ages 7-18 including both boys and girls from around the area. The First Tee of Akron partners up with local schools, other golf courses, churches, community learning centers, the Boys and Girls Club, the Urban League and The LeBron James Family Foundation. First Tee provides curriculum for the students in the form of during and after school programs where they can provide curriculum to the physical education teacher or they can enroll kids in the program at the course. They do this in hopes that the kids like what they experience and are then exposed to golf, which The First Tee uses as an avenue to teach character building traits. Frank says golf lends itself more than any other sport, allowing the players to become more self-aware while developing these lasting characteristics and values. Lots of kids wouldn't have the chance to get onto a green without the program which is offered in the Spring, Summer and Fall for 5 weeks—90 minutes a day.* *
Name:Debbie WegrynHometown:Cleveland, Ohio
How they give back: Debbie is a Cleveland native who volunteers her time at multiple organizations and agencies in the Greater Cleveland area. Her favorite place to #give10 is at the Westside Catholic Center. She volunteers there at least once a month. Her and her coworkers have come together to give their time to help the people in that community by serving breakfast to the homeless. It makes her feel great when she can give of herself and help others. Usually a group of 15 of them go out on a visit and work. Her company has developed a long-term program with the center and they took on the project many years ago and they have continued to stay with it. The impact is immeasurable and the people expect them each time they are there.* *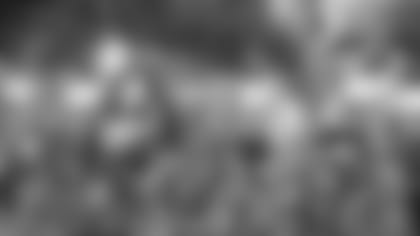 Name:Johnathan HeislerHometown:Cleveland, OhioHow they give back: Fritz Heisler is a Browns alumni who coached with the team from 1946-1970. Johnathan his grandson, who is a junior at his college in Colorado, decided to #give10 by joining in on a charity bike ride across the United States this summer. He and his team rode from San Francisco to D.C. They even rode through Cleveland! Each day they rode 1600 miles and when they stopped they would #give10 on their breaks. During their rest time they would stop to help special needs children. They taught the kids how to ride bikes and played games with them. He raised $13,000 and was the top fundraiser out of 60 total riders. He received the Bruce Rodgers Award as the team member who exemplifies the ideals and the ability experience. Every rider's contribution to fundraising on all three routes combined for a total of $600,000. 
Are you signed up to #give10? Share how you are helping the community and pledge to be part of First and Ten on ClevelandBrowns.com/community. All you have to do is give 10 hours, help your community. We want to hear your stories so follow @BrownsGiveBack on Twitter and Instagram for the latest community updates and be sure to use #give10.