In partnership with College Now Greater Cleveland, the Cleveland Browns Foundation offers a scholarship every year to two Greater Cleveland high school students in honor of former Cleveland Browns fullback Marion Motley.
As one of the first African-Americans to integrate professional football in 1946, Motley overcame many obstacles and was eventually inducted into the Pro Football Hall of Fame in 1968. In the scholarship application, students write an essay connecting how they relate to Marion Motley and the challenges he faced. Additionally, the scholarship aims to help first-generation college students who plan to have a career in education or professional sports after college.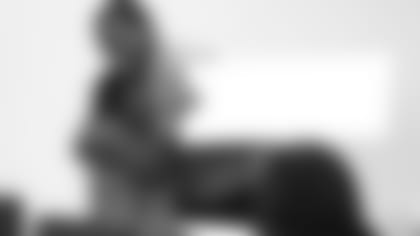 Selected from over 350 applicants, Aiyana Green from John Hay High School and Anthony Harris from Whitney Young High School each were awarded a four-year renewable scholarship totaling $10,000 prior to the Browns vs. Bengals game at FirstEnergy Stadium.
Earlier in November, the Cleveland Browns Foundation invited Green and Harris to the Browns Training Facility in Berea, Ohio for a SURPRISE announcement that they had won the scholarship. Aiyana and Anthony were told to arrive at the Browns Training Facility for a second round interview. Little did they know, however, that the Browns Foundation and College Now Greater Cleveland had already selected them as this year's scholarship recipients.
After the Browns interview panel asked a few questions to the recipients, Browns Offensive Lineman Joe Thomas joined the interview. Joe asked a few additional questions to make them think they were still being interviewed, followed by a surprise announcement that they in fact won the scholarship! Chomps then surprised Aiyana and Anthony with a $10,000 check in their name.
"For a lot of scholarship recipients, if they didn't receive this scholarship, they wouldn't have been able to go to college," says Bob Durham, Director of Financial Aid at College Now Greater Cleveland.
The Cleveland Browns Foundation has offered the Marion Motley Scholarship for eleven years. To date, The Foundation has awarded $220,000 in scholarship money to 22 students, and 92% of recipients graduate or are on track to graduate in six years. This is compared to 11% national average for low-income students.
"Having this opportunity [provides] me with the chance to attend a university that would normally be outside of my financial bounds." Green said.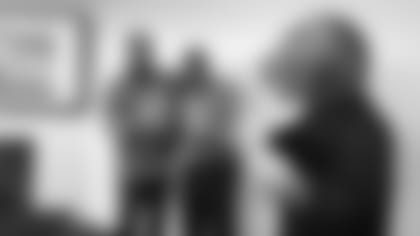 "For me and my family, winning this scholarship [is] that next step to the future and opening the door for a lot of opportunities that few people in my family have gotten to see," Harris said.
The Cleveland Browns Foundation could not think of two more-deserving students than Anthony Harris and Aiyana Green. Congratulations and good luck in your future endeavors!