More than 75 active and retired military members showed up to the Browns team facility Wednesday for a festive Memorial Day reception and tour of the building.
Coach Mike Pettine, quarterback Josh McCown, offensive lineman Alex Mack, defensive linemen Phil Taylor and Calvin Barnett, linebacker Craig Robertson, long snapper Christian Yount, wide receiver Kevin Cone, running backs Isiah Crowell and Shaun Draughn and tight end Kevin Haplea were interspersed in the team cafeteria, posing for pictures, signing autographs and just plain enjoying the company of America's distinguished servicemen and servicewomen.
"What you do for our country holds a dear spot for us in this organization," Pettine said as he addressed the crowd in his green military-themed Browns sweatshirt. "I haven't gone on a USO tour yet, but it's definitely on my to-do list."
Memorial Day is a time to honor and reflect upon fallen soldiers who fought for liberty and justice. Over time, it's also become a day to recognize former military members who are strengthening our community.
Fred Fox deserves to be acknowledged.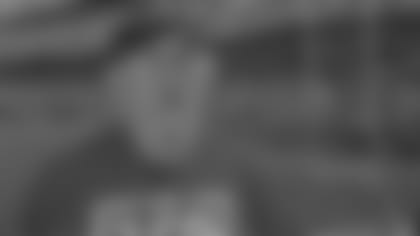 Fox served in the Army from 1969 to 1972 as part of the Combat Engineers and is a Vietnam Veteran. But it's his service here in Ohio that is surely aiding our veterans.
In 2014, Fox volunteered an unfathomable 763 hours for the USO of Northern Ohio. He's a regular at the Bob Hope USO Lounge at the Cleveland-Hopkins airport, giving rides to incoming traveling veterans and visiting with those who have long layovers.
"I retired and I didn't want to go home and sit down," Fox said. "My favorite thing about volunteering is that we all still have this camaraderie together."
Fox started ramping up his volunteer efforts back in 2012. He also serves three days a week assisting the VA in Parma. Fox is vice president of the Vietnam Veterans of America Post Chapter 15 and has been named the 2014 Vietnam Veteran of the Year for the Buckeye State Council. He will receive the award June 5.
"You really want to know the truth? I don't give my volunteer work to get awards," Fox said. "I do volunteer work from the heart. And I love what I do."
This Memorial Day, we salute you, Fred Fox. Your tireless efforts in supporting veterans in Northeast Ohio is exactly what the Browns' #give10 volunteering program is all about.