The Cleveland Browns will host more than 25 members from the 1986 AFC Central Championship team for a special tribute at the Browns-Jets game in Week 8 to honor the 30-year anniversary of one of the franchise's most successful seasons. [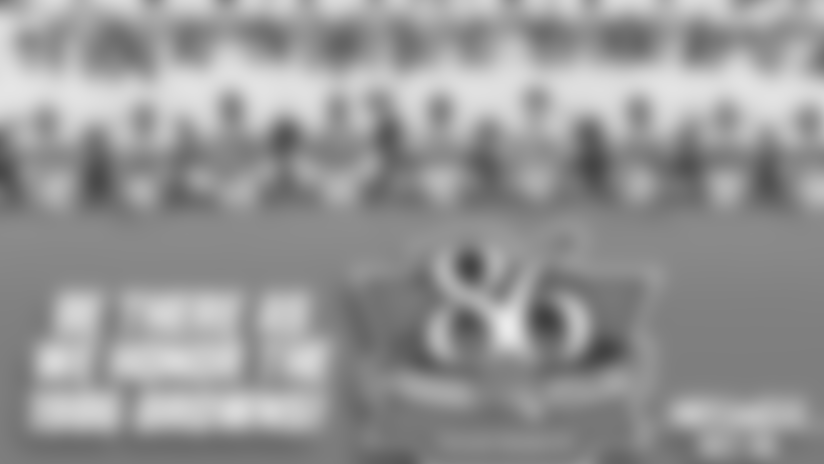 ](http://www.clevelandbrowns.com/news/article-5/1986-Browns-team-to-be-honored-1030/5bf3d609-a3ab-49e9-8ffe-2736870a4f04)
The Browns' commemoration is highlighted by a special halftime ceremony that will celebrate the group's team and individual accomplishments, as well as the excitement generated in Cleveland when the team recorded its most regular season wins (12) since joining the NFL and reached the AFC Championship Game for the first time in club history.
In addition to in-game and halftime recognition, the Browns will honor the 1986 team with exclusive in-depth feature content on www.ClevelandBrowns.com and the Browns Mobile App, as well through "The 1986 Browns; Beyond the Drive," a 30-minute special that will air Sunday, Oct. 30 from 5:30-6 p.m. on NewsChannel 5. Exclusive interviews were conducted with many of the Browns players and coaches who made the historic season possible to share memories with Browns fans on team website, social media and TV programming leading into and after the game.
"The 1986 team to me was really about team," Cleveland Browns Legend RB Earnest Byner(1984-88, 1994-95) told ClevelandBrowns.com. "It was about togetherness. It was a brotherhood."
"It was all about team – team and trying to do something special at the time," echoed Cleveland Browns Legend RB Kevin Mack(1985-93). "I don't think a lot of people were thinking of the Cleveland Browns being a major power in the NFL, but I think from just the start in 1985, it gave us confidence. 1986 is when we really started believing, and it really took off from there."
"That team was such a close family," said Cleveland Browns Legend QB Bernie Kosar(1985-93). "That team was really close, and it is amazing to still be friends with them.
"We were so thankful to have a good team and have fun. People were having a blast in the city," Kosar continued. "There was a lot of cynicism, negative stuff within our community, and this kind of brought happiness to people, and we appreciated it."
Former Cleveland Head Coach Marty Schottenheimer(1984-1988)* *will also be recognized when he joins Browns fans during the "Dawg Pound Moment" in the first quarter, as well as participates in the halftime ceremony.
In 1986, the Browns compiled a 12-4 mark (13-5 including postseason) to register the most regular season and total combined wins since joining the NFL in 1950. To earn the division title and No. 1 AFC playoff seed, Cleveland won eight of its final nine, including a perfect 4-0 record at Cleveland Municipal Stadium and a 3-0 mark against division opponents. The Browns finished 5-1 in AFC Central games and went undefeated in road games within the division, highlighted by a 27-24 win over Pittsburgh in Week 5 to register Cleveland's first ever win at Three Rivers Stadium, which opened in 1970.
During one of the most thrilling games in club history, the Browns defeated the New York Jets in double overtime, 23-20, to claim the team's first postseason victory since 1969 and first AFC Championship Game appearance since the 1970 NFL merger.
To capture the win, Cleveland scored 13 consecutive points in the final two minutes of the fourth quarter and overtime, including a 1-yard rushing TD by Mack and back-to-back field goals by K Mark Moseley (1986) that tied and provided the final advantage, respectively. Mack finished the game with 114 scrimmage yards (63 rushing, 51 receiving), while Kosar*passed for a Browns playoff-record 489 yards with one touchdown, charged by Pro Football Hall of Fame TEOzzie Newsome's *114 receiving yards on six catches. Cleveland's defense also limited New York to 287 net yards, forced 14 punts and amassed nine sacks in the contest.
The 1986 team featured nine players who have been inducted into the Cleveland Browns Legends program: Byner (1984-88, 1994-95), CB Hanford Dixon (1981-89), DT Bob Golic (1982-88), Kosar (1985-93), Mack (1985-93), LB Clay Matthews (1978-93), CB Frank Minnifield (1984-92), Newsome (1978-90) and T Cody Risien (1979-83, 1985-89).
In Week 2, Cleveland also recognized past players and coaches when more than 60 Browns alumni reconnected as the team unveiled a statue of Pro Football Hall of Fame RB Jim Brown and inducted LB Dick Ambrose and DB Thom Darden into the Cleveland Browns Legends Program.
1986 Cleveland Browns reunion attendees:
Head Coach Marty Schottenheimer1984-1988
Offensive line coach Howard Mudd 1983-88
Strength coach *Dave Redding          *1982-88