Browns Host USA Football Player Safety Coach Clinic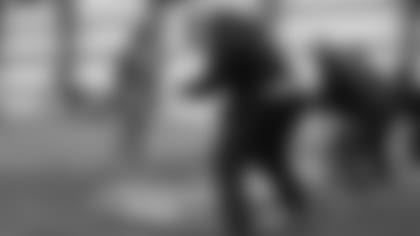 On Saturday, the Cleveland Browns teamed up with USA Football to host a free Player Safety Coach Clinic at the team's training facility in Berea. The Clinic is designed to address the complex challenges of player health and safety in facing youth football leagues across the county.
More than 50 youth football administrators from northern Ohio participated in the one-day training session that included both classroom and on-field learning. Coaches learned the key components of Heads Up Football℠, which includes education and certification, concussion recognition and response protocols, proper equipment fitting, Heads Up tackling, Heads Up Blocking, heat emergency preparedness and hydration, and sudden cardiac arrest. Heads Up Football℠ was created by USA Football, the official youth development partner of the NFL and the Cleveland Browns.
The clinic began in the Browns team meeting room before heading to the field house for on field demonstration and drills. Leading the PSC clinic was Siena Heights University Tight End Coach and USA Football Master Trainer Jim Hamilton. Coach Hamilton was also joined by Heads Up Football Manager, Michael Haynes. Haynes, the 14th overall pick in the 2003 NFL Draft, now oversees all of USA Football's Master Trainers, which includes Saint Ignatius Head Coach, Coach Chuck Kyle.
The Cleveland Browns are committed to assisting in the development, safety and growth of youth and high school football throughout Northeast Ohio with year-round programming for players, coaches, officials and parents, and are proud to endorse Heads Up Football℠ at the youth and high school levels.
To learn more about the Heads Up Football℠ program visit www.usafootball.com/headsup.