The Browns officially inducted 10-time Pro Bowl OT Joe Thomas and Darrel "Pete" Brewster, who played defensive end and tight end for the Browns from 1952-1958, into the teams' Legends program at halftime of the Browns' Week 2 game against the Jets.
Thomas had his four kids and other family members around him as he took the stage and slipped on his brown jacket. Brewster, who passed away in January 2020, was represented by his four daughters and other family members.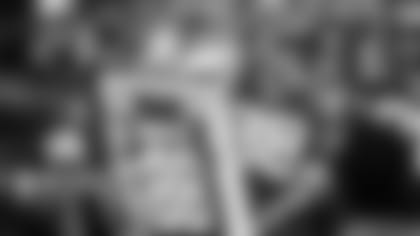 Thomas is considered one of the best offensive linemen in NFL history after his illustrious 11-year career in Cleveland that featured 10 Pro Bowls and six First Team All-Pro seasons. Thomas never missed a snap once his career began after the Browns drafted him third overall in 2007, and his streak of 10,363 consecutive snaps is believed to be the longest in league history. His streak number is also already enshrined in the Browns' Ring of Honor at FirstEnergy Stadium.
Brewster was a second-round draft pick in 1952 and was one of Browns Hall of Fame QB Otto Graham's favorite targets with 210 career receptions for 3,758 yards and 21 touchdowns. Brewster earned his Pro Bowl honors in 1955 and 1956 and won NFL Championships with the Browns in 1954 and 1955.
The Cleveland Browns organization honors the men who have contributed to the success of the Browns organization. The Legends Program started in 2001 with the automatic induction of the Browns' then Pro Football Hall of Famers along with the initial class of five other inductees. An eight-person selection panel chooses the players to be honored. The team has named two Legends per season since 2010 with the exception of 2019, when it did not name any and instead honored Otto Graham with a statue outside of FirstEnergy Stadium and inducted Clay Matthews into the Ring of Honor.