As kids head back to school this fall, the Browns visited a very special school in the heart of Cleveland to personally extend our commitment and positive encouragement to students from Walton School. Walton School is a K-8th school within the Cleveland Metropolitan School District.
Walton School is one of the Cleveland Browns Foundation's community partners. As part of the Cleveland Transformation Plan, the Cleveland Metropolitan School District named an original group of 18 mid-performing schools in need of "wraparound services." The goal is to transform the schools into community schools where they break down the barriers between the school and its community and offer resources and programming for the students and their families.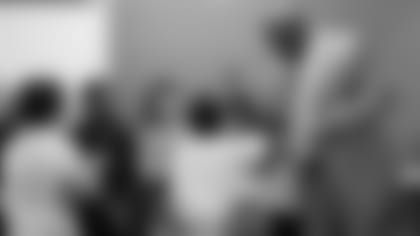 Members of the Browns Leadership group including President Alec Scheiner and General Manager Ray Farmer arrived on the official Browns Fan Express to meet with the students and recognize top scholars who lead by example. The Browns staff was welcomed by CMSD CEO, Eric Gordon and the school principal, Elizabeth Fennell. Before heading to an ice cream social in the school's courtyard, members of the Leadership Group visited different classrooms to speak about leadership and working hard at school and home. Classrooms were presented custom Browns posters with the Walton School mantra called R.O.A.R (Ready to Learn; Own Your Behavior; Always Safe; Respectful) as a constant reminder for scholars and teachers to encourage them to work hard, make good decisions and to be responsible.  The top 99 students received new book bags filled with new supplies, while additional learning tools were left behind that had been generously donated by JD Byrider.
Following the classroom visits, scholars who were identified as role models for their school were invited for a tasty treat and visit with the Browns Leadership Group as well as a special appearance from Billy Winn.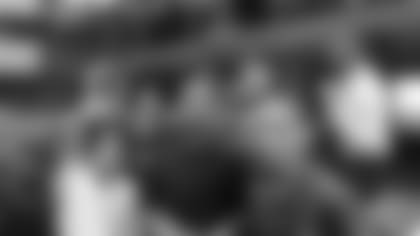 "I'm excited to be here today, let the kids know we are proud of them for all they have achieved and for doing things the right way. It shapes you as a person, if you do stuff the right way at a young age, it follow with you and carries as you get older" said Winn.
The Cleveland Browns Foundation is supporting Walton School, which was identified as a school needing community wraparound services for its scholars and families. Walton School has a diverse student population, including a 60 percent Hispanic population and all of its students receive free or reduced lunch and are categorized as economically disadvantaged.
The visit with the Browns Leadership Group is aligned with the team's First and Ten initiative established to inspire Browns fans to commit ten hours of giving back to their community in the next year. Browns fans are encouraged to log onto ClevelandBrowns.com/community to  take the pledge and help the team reach its goal to compile more than 500,000 service hours in the next year.
Follow @BrownsGiveBack for the latest community updates!